Ariana Grande explains why she scrapped "horrible" original Yours Truly album cover
29 August 2023, 12:50 | Updated: 29 August 2023, 12:51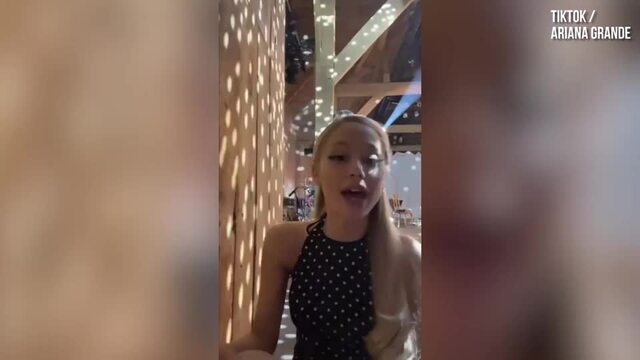 Ariana Grande explains why she changed the original Yours Truly album cover
"You guys got very angry when you saw it. I was very sad about that, and I changed it."
Remember the original artwork for Ariana Grande's debut album Yours Truly? Well, the superstar has now revealed why it was changed in a Q&A honouring the 10th anniversary of the record – and reminded everyone of what it originally looked like in the process.
Over on TikTok, Ariana answered a whole host of fan questions about the making of Yours Truly, and divulged some never-before-revealed information about it. Writing 'Tattooed Heart' by herself in her bedroom at age 17? Whew!
During the chat, she also joked about how her fans' consistent "bullying" made her think twice about the original album cover so she ended up changing it.
READ MORE: Ariana Grande pays tribute to Mac Miller with new live version of The Way
Back in 2013, Ariana was set to release her debut album Yours Truly, but ended up scrapping a big chunk of it and starting over. She also changed the title from Daydreamin' to Yours Truly because it felt like a love letter.
Alongside several songs and the title, the original album artwork was also scrapped.
Answering a fan's question in the Q&A, Ariana held up an image of the original, previously announced, scrapped artwork and said: "Well, it's horrible. It's not horrible, it is — you were right. You guys got very angry when you saw it. I was very sad about that, and I changed it. You were right, but you're not always right."
"Your bullying has been consistent for the past 10 years, so there's that," she continued. "You hated it, you were like, 'This is fucking ugly, mom, change it.' So I did. Sometimes that works. Sometimes it leaves me with wounds that make me question everything I've done since. Just kidding."
Fans loved her honest answer, with one top TikTok comment reading: "Mother roasting the og cover 😭 ur so real"
On top of those two album covers, Ariana recently just released a deluxe edition of the record to celebrate the 10th anniversary with another version of the album artwork.
This time, the deluxe edition's cover is a still from the music video shoot for 'The Way', and it features a beautiful tribute to Mac Miller. You can just about make out Mac's face and sweater in the background projection in the top left corner of the artwork.
Peach PRC Paints A Self-Portrait And Answers Questions About Her Life | Portrait Mode