The meaning behind Beyoncé & Travis Scott's Delresto (Echoes) lyrics and easter eggs explained
28 July 2023, 11:57 | Updated: 28 July 2023, 12:07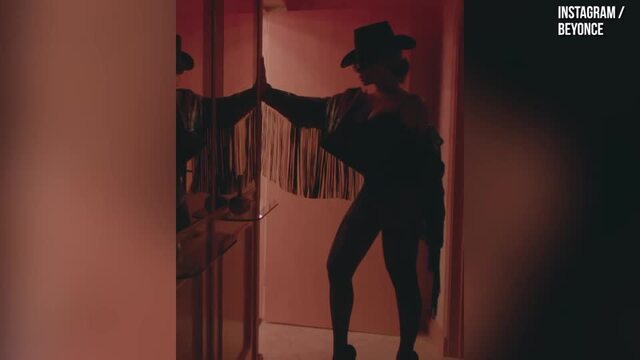 Beyoncé officially releases Renaissance
What are Beyoncé and Travis Scott's Delresto (Echoes) lyrics about and is Beyoncé teasing Act II of Renaissance with the art?
Beyoncé has made a surprise appearance on the new Travis Scott album but what do their 'Delresto (Echoes)' lyrics mean? And, perhaps most importantly, what does 'Delresto (Echoes)' have to do with Renaissance, Act II and this Beyoncé era?
With the anniversary of Renaissance tomorrow (July 29) and still no sign of Act II or the visuals, the Beyhive have been eager to find out what Beyoncé will do next. Today (July 28), Travis Scott dropped his fourth studio album Utopia and the project features a new song with Beyoncé and guest vocals by Bon Iver. Not only that but it's now being pushed as a single.
READ MORE: Beyoncé Renaissance visuals: Everything we know about the upcoming music videos
So what is 'Delresto (Echoes)' about and what does 'Delresto' mean? Here's everything we know about the all-star collab.
What does Delresto mean?
'Delresto' in Italian is written as 'Del resto' and it means 'after all', 'besides' or 'furthermore'. As for the lyrics of the song, Travis and Beyoncé share bars about their respective lives. In the opening verse, Beyoncé alludes to her and JAY-Z's new multi-million dollar property by rapping: "Statues in the next room / Billions in escrow / Bulletproof the whole thing".
Beyoncé also continues to make references to ballroom culture like she did on Renaissance. She raps: "Ignore the dress code / Step into the ballroom / So hard to let go / Things that never give life / I can see the echoes." In the pre-chorus, Beyoncé also alludes to runway by singing "walk" after every single line.
As for what the song is about, it appears to be a vibey, mood-setter of a track in which Beyoncé and Travis sing and rap about finding freedom and their own purpose.
How is 'Delresto (Echoes)' linked to Renaissance?
On first glance, 'Delresto (Echoes)' might appear to be just a Beyoncé feature on a Travis song. However, fans have noticed that on Spotify and Apple, it's being listed as a single with Beyoncé as the lead over Travis. Not only that but the artwork uses a fake newspaper from Beyoncé's 'America Has a Problem' tour visual.
On top of that, fans have spotted multiple easter eggs and references to 'Echoes' hidden in Beyoncé's Renaissance tour visuals. This has led people to wonder why Beyoncé would be teasing a Travis Scott collab so heavily unless the song actually had something to do with the Renaissance era and what's to come.
With Renaissance turning one year old tomorrow (July 29) and Beyoncé yet to reveal anything about the previously announced second and third acts of this project, could there be an announcement during Saturday's concert date at the MetLife Stadium in New Jersey?
Beyoncé wears "endless ECHO" hat in the teaser

Beyoncé at a place called the ATLANTIS, "there's a UTOPIA of people from all over the world on this stage"

"ECHOVILLE place"

"the ECHO is being discussed in today's summit"

"the ECHO" newspaper

Beyoncé on "ECHOES" from "UTOPIA" pic.twitter.com/T9R7BkxAfj

— BEY-Z🐝 (@beyzhive) July 28, 2023
Clown shoes on!
Beyoncé & Travis Scott - 'Delresto (Echo)' lyrics
INTRO
I believe, I believe in love
Ah-ah-ah-ah-ah-ah-ah-ah-ah-ah
Ah-ah-ah-ah-ah-ah-ah-ah-ah-ah
Ah-ah-ah-ah-ah-ah-ah-ah-ah-ah
Ah-ah-ah-ah-ah-ah-ah-ah-ah-ah
VERSE 1: Beyoncé
Statues in the next room
Billions in escrow (Ah-ah-ah-ah-ah-ah-ah-ah-ah-ah)
Bulletproof the whole thing
Ignore the dress code
Step into the ballroom
So hard to let go (Ah-ah-ah-ah-ah-ah-ah-ah-ah-ah)
Things that never give life
I can see the echoes
VERSE 2: Travis Scott & Beyoncé
Ridin' through the thunder
Tryna see the summer (It's the echoes that I wait for)
(It's the echoes that I'm made for)
Recognize the restaurant
Recognize the let go
Breakin' through the echoes (Made for)
Breathin' through the echo (Walk)
PRE-CHORUS: Beyoncé
It's only echoes (Walk) I escape for (Walk)
Only echoes (Walk) on the return (Walk)
Walkin' on (Walk) the numbers (Walk)
Stay the night
CHORUS: Beyoncé
It's the let go (Walk)
The let go (Walk)
The let go (Walk)
The let go (Walk)
That I wait for (Walk)
I wait for (Walk)
I wait for (Walk)
I wait for (Walk)
You
VERSE 3: Justin Vernon & Beyoncé
Watchin', watchin', watchin' you get the medical
Isn't that your ways to skip hospitable?
Infected with your vaccine, this ain't critical
Only live with the green light (Dom, dom, dom, dom)
BRIDGE: Travis Scott
The starry nights are startin' to fade (C'mon)
At times for miles I see your face, mm-mm
I drive, I drive alone, you wait
You're tired, you're tired, tired, baby
You wait
VERSE 4: Travis Scott
Drivin' reckless through the storm and
'Cause you a breakfast in the morning
My nights is abnormal, advice ain't informal
I didn't try to warn before they went and swarmed you
The height we made is paranormal
We shake and wake up to paranoia
Won't let it destroy you, won't let it annoy you
I'm tryin' to enjoy it in front of the foyer
VERSE 5: Beyoncé
We can't seem to break (Ah) it out the logical
To see it in the day, you gotta free your soul (Breakin' through the egg yolk)
You wanna reign supreme and never let you go
We filmin' live from the kingdom-dom-dom-dom-dom (Ah)
Only echoes that I wait for (Ah)
Only echo on the return
PRE-CHORUS: Beyoncé
Walkin' on the mountains (Walk), I climb (Walk)
It's the echoes (Walk) that I wait for (Walk)
It's the echoes (Walk), on the return (Walk)
Stay the night
CHORUS: Beyoncé
It's the let go (Walk)
The let go (Walk)
The let go (Walk)
The let go (Walk)
That I wait for (Walk)
I wait for (Walk)
I wait for (Walk)
I wait for (Walk)
For you
OUTRO: Bon Iver
Ah-ah-ah-ah-ah-ah-ah-ah-ah-ah-ah
Hey, now, you will report to me
Hey, now, you will report to me
Hey, now, hey, now
Hey, now, you will report to me
Hey, now, you will report to me
Hey, now, hey, now, you will report to me
Read more Beyoncé news here:
The Witcher Cast Interview Each Other | PopBuzz Meets