Billie Eilish says men don't get body-shamed like women because "girls are nice"
14 November 2023, 13:13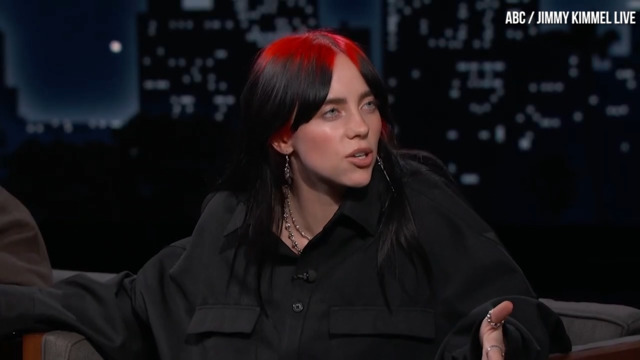 Billie Eilish says Bad Guy is "the stupidest song in the world"
Billie Eilish has opened up about why she thinks men don't get criticised for their bodies as harshly as women do.
Billie Eilish has said that men don't get body-shamed in the way that women do because "girls are nice" in a new interview.
Throughout Billie Eilish's career, she's been subject to a torrent of unwarranted comments about her body on social media. As a result, fans have often spoken up in Billie's defence and questioned why people feel the need to criticise a teenager's body. Billie has also opened up about struggling with her body image and hating her body when she was growing up.
Now, Billie has talked about the double standards women face when it comes to body-shaming and how men are treated.
READ MORE: Billie Eilish fans call out Jesse Rutherford over his "creepy" POV lyrics
Speaking to Variety about the comments she gets about her body, Billie said: "I've had big boobs since I was nine years old, and that's just the way I am. That's how I look. You wear something that's at all revealing, and everyone's like, 'Oh, but you didn't want people to sexualise you?' You can suck my ass! I'm literally a being that is sexual sometimes. Fuck you!"
Billie then argued that men aren't body-shamed like women. She said: "Nobody ever says a thing about men's bodies. If you're muscular, cool. If you're not, cool. If you're rail thin, cool. If you have a dad bod, cool. If you're pudgy, love it! Everybody's happy with it. You know why? Because girls are nice."
Billie also said: "Being a woman is just such a war, forever. Especially being a young woman in the public eye. It's really unfair."
Elsewhere, Billie opened up about feeling uncomfortable in her skin as a woman. She said: "I've never felt like a woman, to be honest with you. I've never felt desirable. I've never felt feminine. I have to convince myself that I'm, like, a pretty girl. I identify as 'she/her' and things like that, but I've never really felt like a girl."
Madison Beer Explains Every Song On 'Silence Between Songs' | Making The Album