Taylor Swift fans spot 'emotional' detail in her 1989 Taylor's Version album covers
10 August 2023, 16:43 | Updated: 21 September 2023, 13:45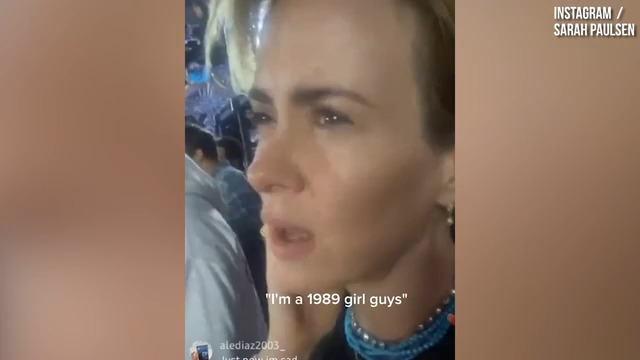 Sarah Paulson reacts to Taylor Swift's The Eras Tour on Instagram live
One of Taylor's diary entries about why she changed her original 1989 cover has now gone viral.
1989 warriors, our time has finally arrived! Taylor Swift has officially announced the tracklist for 1989 (Taylor's Version) and the stunning new front and back covers for the album have now been revealed.
Echoing the summery blue vibes of the original album, with the iconic seagulls featured in the background and the Polaroid-style photo shoot, the 1989 (Taylor's Version) cover is surprisingly different to the original. It's also Taylor's first ever album cover that features her smiling.
Fans are now pointing out just how significant it is that Taylor's face – and smile – is in full view on the new album cover, and it all leads back to a diary entry from 2014 that she shared as part of her deluxe version of Lover.
Now that she's released the back covers of the vinyl variants, fans have also noticed another detail that they can't stop thinking about.
READ MORE: Taylor Swift re-recordings: All the release dates of the Taylor's Version albums in order
Originally, the album cover that Taylor had chosen for 1989 was not the one we all know and love. The first cover that Taylor chose for the album featured a clearer crop of her face, with her classic red lip and her smile on full display.
However, in one of her old diary entries, Taylor wrote down how she eventually came to realise that she wasn't quite vibing with that chosen photo, so she changed it.
"Last night, I had this vivid dream where the photo I'd chosen for the album cover wasn't good enough, intriguing enough, artful enough," she writes. "I looked at it and felt nothing. The team pulled up this new scanned file of the Polaroids we had taken during the shoot"
"I saw it within 10 seconds. The shot. The cover. It's a polaroid of me sitting against a beige wall with a blue seagull sweat shirt on. You can see my red lips, but the photo cuts off my eyes."
"For some reason unknown to me, it's the most intriguing photo I've ever seen. I think it's the mystery of not seeing my eyes. Maybe it just looks effortlessly cool."
The photo she eventually chose for the album cover ended up being photo 13 from the shoot.
‼️ | "1989 (Taylor's Version)" album cover is a MAJOR glo up.

Originally, she didn't like her smile on the original album cover for "1989". pic.twitter.com/KCHxu70cIq

— Taylor Swift Facts (@blessedswifty) August 10, 2023
May 30, 2014: Taylor's journal entry from The RED Tour in Asia. She just played her first show in Shanghai 🇨🇳 and is ready for Tokyo 🇯🇵. It was also the night she first saw the album cover for "1989." #Lover pic.twitter.com/3qJeKy9yYJ

— Taylor Swift Updates🧣 (@TSwiftinAsia) August 26, 2019
Now that the new Taylor's Version cover embraces all the details about the original 1989 cover that Taylor wasn't keen on, fans are even more obsessed with it.
"The original cover was meant to look 'effortlessly cool' but for Taylor's Version, almost 10 years later, she just looks so happy and carefree and there's just something so beautiful about that to me," one fan wrote.
Several others echoed the sentiment, noting how much they love the vibes of the new cover.
I'm literally crying tears over this album cover. In 2014 Taylor talked about how the original was chosen because it didn't indicate any type of emotion for the listener to feel. She's got a straight face and her eyes are hidden. But on the new cover she looks so happy and free pic.twitter.com/JQqkFffpq6

— 𝒻𝑜𝓁𝓀𝓁𝑜𝓇𝑒 | fan account (@cardigan_swift) August 10, 2023
It means everything that Taylor looks so happy in this photo, especially after she didn't use the photo of her smiling for the original 1989 cover because she didn't like it. I'm so incredibly proud of her 🩵 pic.twitter.com/Vpdwh4yBdm

— aims 🦋 IS SEEING TAYLOR SWIFT (@shimmeringtay13) August 10, 2023
On the back of the original 1989 album, the image of Taylor only showed the top half of her face. Her mouth was not visible in the shot.
With the release of the four different back covers, fans have now noticed how poignant it is that one of them features her face in full view, shouting at the camera.
One fan wrote: "She had no mouth to speak with on the original back cover, but on TV back cover she is shouting from the rooftops."
NCT DREAM vs. 'The Most Impossible NCT DREAM Quiz' | PopBuzz Meets