Is Taylor Swift releasing a double album? The 1989 (Taylor's Version) theory explained
25 October 2023, 14:35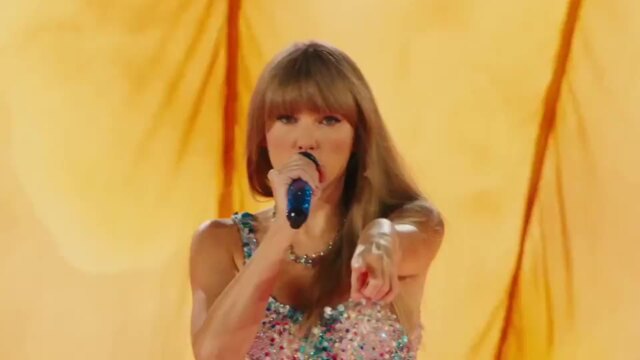 Taylor Swift announces The Eras Tour concert film with trailer
Two '1989' references on 'The Man' wall. The 'Bejeweled' music video. The Shania Twain references... Here's all the easter eggs spotted by Swifties hinting at a double album.
Is Taylor Swift about to drop a double album? Could there be more to 1989 (Taylor's Version) than we think?
On October 27th, Taylor will finally release her record-breaking fifth album as her highly anticipated fourth re-record. Alongside all those iconic 1989 tracks, Taylor has dipped into the Vault and has included five brand new, never-heard-before tracks.
However, unlike Fearless (TV), Red (TV) and Speak Now (TV), 1989 (TV) will be the first batch of From The Vault songs to not include any collaborations or features. This little detail has now got the Swifties in full conspiracy mode. An era that saw Taylor with her squad? The friendships? The joint slays? All those surprise guests on the 1989 World Tour!? And yet the album has no features at all? Suspicious...
Now, fans have locked themselves into a theory that suggests 1989 (Taylor's Version) will actually be a double album. Why? The apparent easter eggs. And there's a LOT of them.
To fully understand why fans are so fixated on this theory, we must go back to the Swiftsetta Stone itself a.k.a. the subway wall from 'The Man' music video...
Will 1989 (Taylor's Version) be a double album?
So, if you cast your minds back to 'The Man' music video, you'll remember Taylor standing in front of a graffitied subway wall featuring the names of all the albums that were, at the time, not owned by Taylor.
Fearless, Red, Speak Now, Reputation and 1989 all feature on the wall, alongside Karma (which has its own 'missing album' theory). But, eagle-eyed Swifties have clocked that 1989 actually features on the wall twice. You'll have to be quick to spot it because the camera begins to pan in very quickly.
Right at the top of the frame, written in dark blue paint, is another 1989. Fans are now asking the all important question: Why, out of all the albums, is that the only one written on the wall twice?
Swifties are now convinced that Taylor has another surprise up her sleeve, and so far, there's two different versions of what they think it could possibly be.
The first? 1989 (Taylor's Version), but every single song – either remixes or new vault tracks – features a collaboration with another artist. And the second? 1989 (Taylor's Version), but in a different genre...
They're not the only easter eggs that fans have latched onto either. There's plenty more that have now been tied into the double album theory. Here's a brief rundown...
1) The back covers of the 1989 (TV) vinyl variants. Taylor's poses on three out of the four appear to spell 'TWO'.
2) The 'Bejeweled' music videos shows Taylor getting off the lift at the 5th floor, where two martini glasses appear alongside Dita Von Teese.
3) The light and dark imagery that continues to pop up throughout her recent appearances and teases. Calling back to the double '1989' white and blue graffiti on 'The Man' wall, fans have clocked several instances where Taylor has switched between light and dark.
Fans reported that Taylor's website kept glitching black before showing the 1989 (TV) artwork. Dita's iconic hair is black, while Taylor's hair is blonde. The 'Bejeweled' martini glass that Dita sits in has black detailing, while Taylor's is completely silver. Taylor has been wearing alternating blue and black outfits out in public recently too.
(Obviously, those deliberate outfit choices could also just be Reputation (TV) teases too, tbh.)
Has Taylor Swift been inspired by Shania Twain's double album?
There's also the Shania Twain of it all. Back in 2021, Taylor jumped on the 'Mama Said' TikTok trend and credited Shania as one of her key inspirations when she switched genres from country to pop.
Shania was famously criticised by country music critics after releasing her 1997 album 'Come on Over' because it wasn't deemed country enough. Five years later, she released Up!, which was sold in the U.S. as a two-disc double album, both featuring the same songs but one was pop and the other was country.
In her speech at the VMAs, Taylor said: "I love slinking around different genres..." Of course, 'slinking' alongside her snake-like hand movement is another big clue that Reputation (Taylor's Version) is next, but fans have also linked that back to Shania's genre experiment with Up!.
Taylor was also papped wearing a Shania Twain 'Any Man of Mine' t-shirt in early October, but does that tie into the double album theory, or is she now finally beginning to hint at Taylor Swift (Taylor's Version)?
Clown shoes on, Swifties! We are getting ready to walk Clownelia street again!
Ashnikko Breaks Down 'Weedkiller' Track By Track | Making The Album