1989 (Taylor's Version) vault tracks: Song titles, theories and collaboration predictions
20 September 2023, 19:34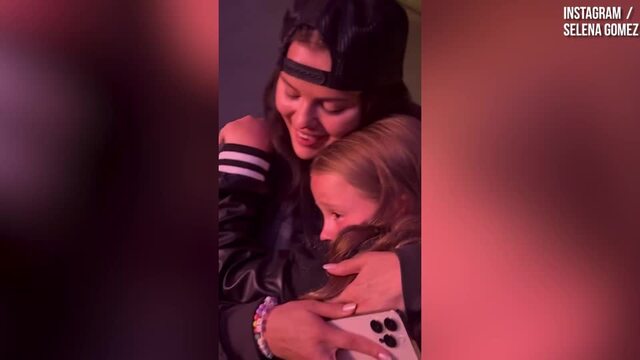 Selena Gomez posts adorable Taylor Swift tour video with her sister
What will Taylor Swift's 1989 (TV) vault tracks be titled? And which other artists will appear on them? Here's all the latest theories.
1989 szn is almost upon, once again! Taylor Swift has officially confirmed that 1989 (Taylor's Version) is on the way, alongside five brand new songs From The Vault and one exclusive bonus track on the Tangerine vinyl.
The re-record of one of Taylor's biggest and best albums so far is set to be released on October 27th 2023, 9 years to the day since she released the original record. With a confirmed track list containing 21 songs, the likes of 'Blank Space', 'Style', 'Bad Blood' and 'Clean' will all be included alongside the vault tracks.
Taylor has described the album as her "most FAVORITE re-record I've ever done because the 5 From The Vault tracks are so insane." She added that she "can't believe they were ever left behind."
Of course, thanks to that monumental tease, fans are desperate to hear them and are now theorising as to who she may have collaborated with on them. Jonas Brothers? Harry Styles? Nicki Minaj? Here's all the latest theories and updates about the 1989 (Taylor's Version) vault tracks...
READ MORE: Taylor Swift fans spot 'emotional' detail in her 1989 Taylor's Version album cover
1989 (Taylor's Version) vault tracks: What songs will be released from the vault?
Taylor has confirmed that there's five From The Vault tracks that will be added to 1989 (Taylor's Version). It's also now been confirmed that the exclusive Tangerine vinyl will include a 'Bonus Track'.
Judging by her tease in her Instagram caption, it sounds like they all have the potential to be chart-topping bangers.
Unlike her earlier albums, however, information about any unreleased songs from the 1989 era is thin on the ground. There's been no leaks, and not many quotes from Taylor herself about songs that were left behind either.
On September 20th, Taylor unveiled the first four vault track titles from 1989 (Taylor's Version) after fans successfully unlocked the Google vault puzzle. Here's the full list:
'Is It Over Now?'
'Now That We Don't Talk'
'Say Don't Go'
'Suburban Legends'
"SLUT!"
TBA [Tangerine Vinyl Exclusive]
It's a new soundtrack 🩵 Here are the back covers and vault track titles for 1989 (my version) I can't wait for this one to be out, seriously. Thank you for playing along, sleuthing, puzzling and making these reveals so much chaotic fun (which is the best kind of fun, after all… pic.twitter.com/s3QrxGpXhP

— Taylor Swift (@taylorswift13) September 20, 2023
1989 (Taylor's Version) collaborations: Who will feature on the vault tracks?
It looks like there are no features on 1989 (Taylor's Version). There's still one more bonus track to come on the exclusive Tangerine vinyl, but according to the official track list, this re-record will be Taylor and Taylor alone.
That means 1989 (TV) is the first re-record to not feature any features.
Below is a list of theories that fans previously came up with as to who could feature on the album. Nicki Minaj, Jonas Brothers, Harry Styles and Selena Gomez were all included but of course, none of them have been confirmed to appear on the album.
Nicki Minaj
A new theory has emerged on TikTok suggesting Nicki Minaj might feature on one of Taylor's 1989 (TV) vault tracks, and it's all thanks to their star sign...
Back in August, Nicki quote tweeted a post that celebrated the two icons and their chart successes. She wrote: "Fighting the urge to say Sagittarius tingz right now so bad." Nicki frequently mentions her Sagittarius star sign throughout her lyrics, so that wasn't too out of the ordinary. And with Taylor also being a Sagittarius, it made total sense.
But then, at the VMAs, Taylor called Nicki her 'favourite Sagittarius' while accepting an award. Theories quickly began to fly, with fans pointing out the recent use of the Sagittarius constellations throughout the Midnights era visuals.
Adding even more fuel to the fire: One of the anagrams included in Taylor's 1989 TV vault puzzle is the word 'Sagittarius'...
Are we clowning, or do we actually have a Taylor x Nicki collab on our hands?
🔎| Fans are beginning to connect the dots about Nicki Minaj being rumoured to feature on the 1989 TV vault tracks.

— Taylor Swift is known to leave cryptic messages everywhere. What do you think about this one? pic.twitter.com/i5qV2Tn8qk

— The Onika Magazine  (@onikamagazinee) September 18, 2023
Jonas Brothers
Now, as wild as this sounds, there's actually some weight to this theory. This one goes all the way back to October 2021, and relates to the same TikTok glitch video from Taylor that hinted at 1989 (Taylor's Version).
Fans noticed that both Nick and Joe shared TikToks featuring the same glitch as Taylor, and began using Taylor's music on their social media posts. Taylor also commented under one of their TikToks with a pizza emoji, which fans immediately linked back to the pizza on the board of easter eggs she showed off during her interview on The Late Show with Stephen Colbert.
Fans also noted that Nick performed with Taylor as a special guest on The 1989 World Tour. Coincidentally, Joe once shared that 1989 was his favourite Taylor album during a livestream with Sophie Turner.
Could it all just be one elaborate troll from Taylor and the Jo Bros? Or could we soon hear a collab between the artists?
Harry Styles
Let the delusions begin! Long has there been chatter and demand for Taylor and Harry to collaborate on a track. So much so that AI versions of their voices performing 'Style' together continue to go massively viral on social media. (The song is rumoured to be about their previous relationship).
However, as much as fans want to hear it, it's unlikely that a 'Style' remix (if it even exists!) will feature on the album. Taylor has yet to add another artist's vocals onto an actual re-recorded album track as the idea of the project is to record them as close to the original as possible.
And with only five vault songs that she has already said she "can't believe were ever left behind," it doesn't sound like it would be included there either as 'Style' was obviously never left behind.
Then again, you never know. If Taylor and Harry really wanted to break the internet, they could always release it as a single later down the road.
Selena Gomez
A dream collaboration for the Swifties and the Selenators, tbh. Selena is one of Taylor's besties, was one of the original members of the 1989 squad, and performed with her on Reputation Stadium Tour, The 1989 World Tour and the Speak Now World Tour, and fans have now made several connections to Selena and a possible 1989 (TV) feature – namely her recent Rare Beauty collaboration with the Eras Tour.
Oh, and she wore a baby blue tank top the other day... of course that got fans talking.
Katy Perry
Could Taylor and Katy collaborate on the album that included the song that was written about their falling out? Well, there was a long-running fan theory that it could happen but Katy has just been spotted on vacation with Scooter Braun so... Maybe not, after all?
While 'Bad Blood (Taylor's Version)' will likely remain a solo Taylor song, fans theorised that the pair could join forces on one of the unreleased vault tracks.
The two superstars publicly quashed their beef in Taylor's 'You Need To Calm Down' music video when Katy made a brief cameo appearance. Back in 2021, Katy also pondered what it would be like if the two united on a song one day.
Other names that have popped up in conversations amongst Swifties?
Imogen Heap, who co-wrote and co-produced 1989's fan favourite track 'Clean' with Taylor, posted an Instagram Story hinting that she was back in the studio "working on a little rework of a certain song for a certain artist." Fans immediately assumed that she was working with Taylor again on 'Clean (Taylor's Version'), but others also hoped she would be collaborating on another track with Taylor, too.
Lorde and Halsey have also been mentioned in theories, with fans relating them to key moments during the original 1989 era and performances by Taylor in the years following.
Following reports of a collaboration with The 1975 on the re-release, a spokesperson for Taylor shut down the claims.
Who are your top 3 predictions for Taylor's 1989 (Taylor's Version) collaborations? Do you think she'll have any at all?
NCT DREAM vs. 'The Most Impossible NCT DREAM Quiz' | PopBuzz Meets