Taylor Swift travels to stage at the Eras Tour using a janitor cart and there's a video to prove it
4 April 2023, 17:51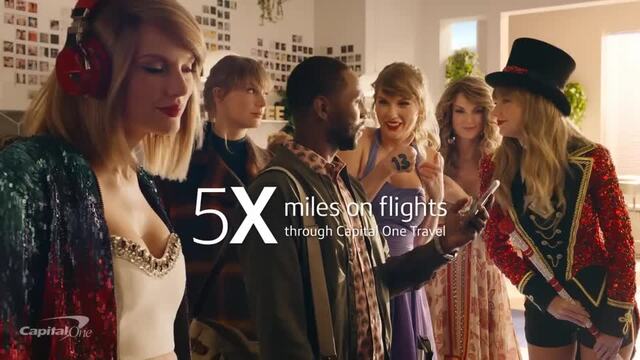 Taylor Swift teams up with Captial One for The Eras tour presale
Yes. That is an actual video of Taylor Swift travelling to stage via a janitor cart.
A viral TikTok video of Taylor Swift at The Eras Tour has revealed that she gets to stage by travelling in a real-life janitor cart.
Ever since Taylor Swift kicked off The Eras Tour in March, fans have been mesmerised by the next-level production. First of all, Taylor performs a whopping 44 song setlist. If that weren't enough, almost every single song has its own unique set of intricate props and cinematic visuals. Perhaps wildest of all, Taylor literally dives into stage at one point of the show.
Now, fans are discovering more secrets from The Eras Tour. How Taylor arrives on stage has truly taken fans by surprise.
READ MORE: Taylor Swift Eras Tour merch: Prices, exclusive sweaters, opening times and more
Shortly after The Eras Tour began, fans suspected that Taylor was getting to stage via a janitor cart. In many of the stadiums in which Taylor is performing, there are seats where you can see behind the stage. As a result, fans expected to see Taylor arriving to and from the stage but they struggled to find her. Instead, they saw a mysterious janitor cart rolling around.
Now, a new viral TikTok video confirms that Taylor is using the janitor cart to travel to and from the stage. In a video posted by @shaydanzifpour, you can see a janitor cart, complete with mops, being rolled up a ramp to the stage. You then see Taylor exiting the cart at the 00:28 mark. The video has now been watched over 2.8 million times.
Reacting to Taylor's unique mode of transport, one fan commented: "We better get a clip from inside the janitor cart in the documentary". Another added: "This convince me she was in the suitcase", in reference to the viral rumour that Taylor previously would travel inside a giant suitcase to avoid paparazzi (Zayn even said that the rumours were true).
Someone also wrote: "Taylor is going to see this and change it up to fool the next crowds, watch".
As it stands, Taylor is yet to reveal why she travels via janitor cart although it seems likely she does it to keep her entrance a surprise from fans. Pretty legendary if you ask me.
ATEEZ Spill Their Secrets In 'The Tower Of Truth' | PopBuzz Meets