Taylor Swift fans think 'When Emma Falls in Love' is about Emma Stone
7 July 2023, 13:02 | Updated: 7 July 2023, 20:53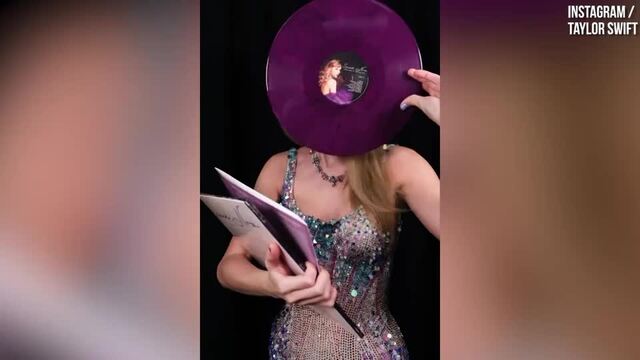 Taylor Swift teases Mine (Taylor's Version)
Who is Emma in 'When Emma Falls in Love'? Fans think Taylor's new vault song is about Emma Stone and her previous boyfriends.
It's here! Taylor Swift's Speak Now (Taylor's Version) had us by the throats since midnight. 16 brand new Taylor's Versions, and those vault tracks? Could it possibly be her best vault offering yet? It's up there, we're not gonna lie...
Alongside the Fall Out Boy and Hayley Williams collabs, Taylor has also blessed us with a bop called 'When Emma Falls In Love'.
On the song, Taylor sings about her friend "Emma", who it's clear she's known for years, admiring and observing her throughout her various relationships in the time they've known each other.
Fans have been theorising who the Emma in question is ever since the vault track title was revealed. And now it's here, Swifties think that the song could be inspired by Emma Stone, who Taylor has been friends with for years.
Who is Emma in Taylor Swift's 'When Emma Falls in Love'?
How long have Taylor Swift and Emma Stone been friends?
Taylor and Emma Stone have been friends for well over a decade, having met as teenagers. They struck up a friendship and have remained good mates ever since, supporting each other at various points throughout their careers.
Speaking about her recent appearance in the VIP tent at The Eras Tour, Emma told Vanity Fair: "I've known her since we were 17 and 18, so she hooked me up, which was very nice 'cause I know those tickets are impossible to get. She's a wonderful friend. She blows my mind."
Based on Emma's quotes, that means the two first met around 2006/2007, two years before Taylor began writing songs for Speak Now, which was later released in October 2010. Plenty of time for Emma to have inspired one of those songs, right?
Who has Emma Stone dated?
Unfortunately for those hoping that the song would be about Andrew Garfield, Emma and Andrew began dating just after Speak Now was released. The two are said to have met while filming The Amazing Spider-Man at the end of 2010 and didn't date until 2011.
However, the lyric describing Emma as "Little Miss Sunshine" has now gone viral thanks to an old quote from Andrew where he described being around Emma as "like being bathed in sunlight". (Others have also pointed out that that lyric could be in reference to the 'Pocketful of Sunshine' scene in Easy A.)
Emma has also previously dated singer-songwriter Teddy Geiger from 2007 to 2009, and – plot twist for the Succession stans and Roman Roy enthusiasts in the chat – actor Kieran Culkin in 2010.
Of course, the song might not even be about Emma Stone. Fans also have theories that it could be about Jane Austen's Emma, or another Emma that Taylor was friends with as a teenager. Emma Watson and Emma Roberts are also friends of Taylor's and have been spotted at dates of The Eras Tour.
Either way, it's a bop and already a fan favourite from the vault. Read the lyrics below and see what you think. Is it about Emma Stone? We'll have to wait and see if it ever gets addressed...
when emma falls in love is for the girls who fall in love so hard, that the genuinely battle themselves if they have to let go. i'm emma. pic.twitter.com/RnsXymcr4J

— amanda 🪩🫧 (@amandamfink) July 7, 2023
Taylor Swift - 'When Emma Falls in Love' lyrics
VERSE 1
When Emma falls in love, she paces the floor
Closes the blinds and locks the door
When Emma falls in love, she calls up her mom
Jokes about the ways that this could go wrong
She waits and takes her time 'cause little miss sunshine always thinks it's gonna rain
When Emma falls in love, I know that boy will never be the same
CHORUS
'Cause she's the kind of book that you can't put down
Like if Cleopatra grew up in a small town
And all the bad boys would be good boys
If they only had a chance to love her
And to tell you the truth, sometimes I wish I was her
VERSE 2
When Emma falls in love, it's all on her face
Hangs in the air like stars in outer space
When Emma falls in love, she disappears
And we all just laugh after seein' it all these years
When Emma falls apart, it's when she's alone
She takes on the pain and bears it on her own
'Cause when Emma falls in love she's in it for keeps
She won't walk away unless she knows she absolutely has to leave
CHORUS
'Cause she's the kind of book that you can't put down
Like if Cleopatra grew up in a small town
And all the bad boys would be good boys
If they only had a chance to love her
And to tell you the truth, sometimes I wish I was her
BRIDGE
And she's so New York when she's in LA
She won't lose herself in love the way I did
'Cause she'll call you out, she'll put you in your place
When Emma falls in love, I'm learning
VERSE 3
Emma met a boy with eyes like a man
Turns out her heart fits right in the palm of his hand
Now he'll be her shelter when it rains
Little does he know, his whole world's about to change
CHORUS
'Cause she's the kind of book that you can't put down
Like if Cleopatra grew up in a small town
And all the bad boys would be good boys
If they only had a chance to love her
And to tell you the truth, sometimes I wish I was her

OUTRO
Yeah, between me and you, sometimes I wish I was her
The Witcher Cast Interview Each Other | PopBuzz Meets