Taylor Swift urges fans not to bully John Mayer when Speak Now (Taylor's Version) is released
26 June 2023, 16:40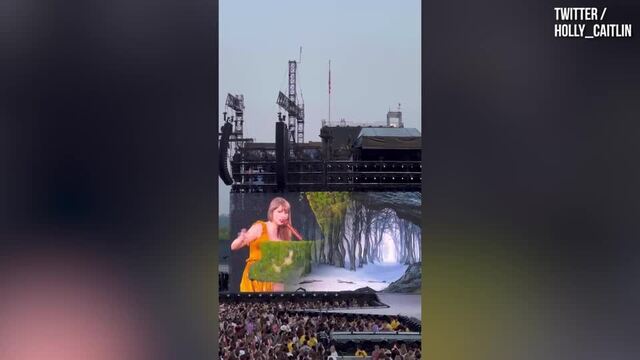 Taylor Swift explains why Cruel Summer wasn't released as a single
"I'm 33 years old. I don't care about anything that happened to me when I was 19."
If you've got a whole bunch of John Mayer memes and Taylor Swift defence tweets sitting in your drafts, ready and waiting for July 7th when 'Dear John (Taylor's Version) is finally released... delete them. It's what Taylor Swift herself would want.
In a few weeks, Taylor Swift is finally set to release her next re-recorded album, Speak Now (Taylor's Version). Anticipation for this particular re-record is at an all time high, and Taylor now appears to be getting ahead of the inevitable tweets, memes and comments about the rumoured subjects of each song – particularly 'Dear John'.
Speaking on-stage at her Eras Tour show in Minneapolis this past weekend (June 24), just before performing 'Dear John' as a surprise song, Taylor urged fans to not use the album's re-release as an excuse to cyberbully any of the rumoured subjects.
READ MORE: Taylor Lautner is worried for John Mayer over Taylor Swift's Speak Now re-release
Speak Now was written solely by Taylor and is about all the things she wished she had said but never got the chance; from giddy secret crushes ('Enchanted') and breakup regrets ('Back To December') to problematic bangers ('Better Than Revenge') and emotional call outs ('Dear John').
On 'Dear John', Taylor sings about an ex's manipulative behaviour and questions if he ever thought she was "too young to be messed with" at the time of their relationship. It's never been officially confirmed but is widely assumed to be about/based on her relationship with John Mayer.
Based on how the internet reacted to Jake Gyllenhaal when Red (Taylor's Version) was released, it looks like Taylor is now pre-emptively urging her fans to be chill about the upcoming release.
Celebrating the kindness and friendship that she's seen on the Eras Tour so far, Taylor started her speech by saying: "I was hoping to ask you that as we lead up to this album coming out, I would love for that kindness and that gentleness to extend on to our internet activities. Right?"
"I'm 33 years old. I don't care about anything that happened to me when I was 19, except the songs I wrote and the memories we made together," Taylor then told the audience in Minneapolis.
"So what I'm trying to tell you, is that I'm not putting this album out so you should feel the need to defend me on the internet against someone you think I might have written a song about 14 million years ago."
"I do not care, we have all grown up. We're good," she added. "I'm saying that only because I am proud of it as a song."
So there you have it. 'Dear John (Taylor's Version)' is coming, and Taylor has spoken: It's a certified bop, but we're over the drama x
Read more Taylor Swift news here:
Niall Horan Breaks Down Every Song On 'The Show' | Making The Album