Tom Holland reveals how Zendaya fell for him and it's adorable
26 June 2023, 17:46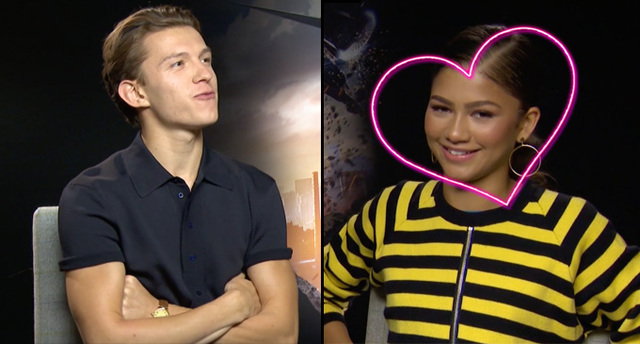 Tom Holland Reveals His First Ever Celebrity Crush
Tom Holland and Zendaya continue to be the cutest couple ever.
Tom Holland has opened up about how Zendaya fell for his carpentry skills and we've never heard anything more swoon-worthy.
Ever since Tom Holland and Zendaya confirmed that they were a couple, fans have been obsessed with their romance. From Zendaya revealing that she struggles to understand Tom's British slang, to Tom wearing clothes with the letter "Z" stitched onto them, Tomdaya regularly prove that they are one of cutest duos in Hollywood. They even wear personalised rings.
Now, Tom has explained how he and Zendaya actually started dating each other and the story is too perfect for words.
READ MORE: Tom Holland casts doubt on Spider-Man 4 in new interview
Speaking with UNILAD about being a trained carpenter and his love of carpentry, Tom said: "Carpentry is just something that I really enjoy. I love it. I made my mum's kitchen table. I made my mum's office. I built all the cupboards in my bedroom. I've built a little birdhouse with my granddad."
Tom then let slip that his carpentry skills actually came in handy in the early days of his relationship with Zendaya. He said: "I fixed my girlfriend's door once, really early on in our relationship. I was hanging out at her house and her door was broken. I was like, "Imma fix that door for you".
If that weren't romantic enough, Tom ended by saying: "And now we're in love."
Fast-forward to 6:15 to hear Tom's comments.
Tom Holland Gives Honest Feedback on Tottenham & American Food | Get A Job
Talking to BuzzFeed earlier this month, Tom stated that he has "no rizz, whatsover" and he had to play the long came to get Zendaya to fall in love with him. He said: "I need you to fall in love with me, really, for it to work."
He continued: "So long game, probably making a movie with each other definitely helps when the characters you're playing are falling in love with one another. You can sort of blur the lines a little bit."
Tom concluded: "I'm happy and in love. So I've got no need for rizz."
No. I'm not crying. You are.
Niall Horan Breaks Down Every Song On 'The Show' | Making The Album