Zendaya says she won't "hide" her relationship with Tom Holland
24 August 2023, 17:27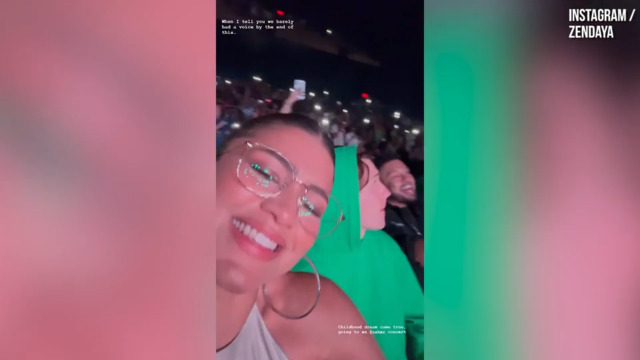 Zendaya and Tom Holland enjoy Usher concert
"I can't not be a person and live my life and love the person I love."
Zendaya has opened up about dating Tom Holland and how she decides what bits to keep private and what to make public.
There's no denying that Zendaya and Tom Holland are one of the most beloved couples in Hollywood today. The two actors first met while filming Spiderman: Homecoming and began dating in 2021. At first, Zendaya and Tom chose to keep their relationship private but that decision was robbed of them when paparazzi photos of them kissing went viral online.
In the years since, Tom and Zendaya have shared rare details about their relationship in interviews. They have also posted about each other on social media. Now, Zendaya has revealed what being in such a public relationship is actually like.
READ MORE: Tom Holland reveals how Zendaya fell for him and it's adorable
Speaking to Elle, Zendaya said: "Parts of my life, I accept, are going to be public. I can't not be a person and live my life and love the person I love. But also, I do have control over what I choose to share.' She added: "It's about protecting the peace and letting things be your own but also not being afraid to exist."
Zendaya then revealed that she refuses to hide her relationship with Tom just because they're famous. She said: "You can't hide. That's not fun, either. I am navigating it more than ever now."
Expanding further on how fame affects her, Zendaya said that she couldn't hang out with her Challengers co-stars off set. She said: "I would end up going right back home, because it was really overstimulating."
She continued: "Everybody would go hang out at a bar or something, and I'd be like, 'I'd love to, but I think I could ruin everybody's night. Because it's just not going to be fun once I'm there.'"
Zendaya also said that she doesn't like when people take photos of her without asking first. Once people once took photos of her having a card issue while buying a pillow and it got to her. She said: "I was just like, Why? You see I'm flustered."
She also said that she's been photographed in Venice picking up her dog's poop: "There's a picture of me holding the bag, but thankfully they spared the grabbing and the putting it in the bag part."
Leave Zendaya alone!
Read more Zendaya news here:
Peach PRC Paints A Self-Portrait And Answers Questions About Her Life | Portrait Mode