AHS: Delicate shades Olivia Wilde in savage Don't Worry Darling reference
29 September 2023, 13:28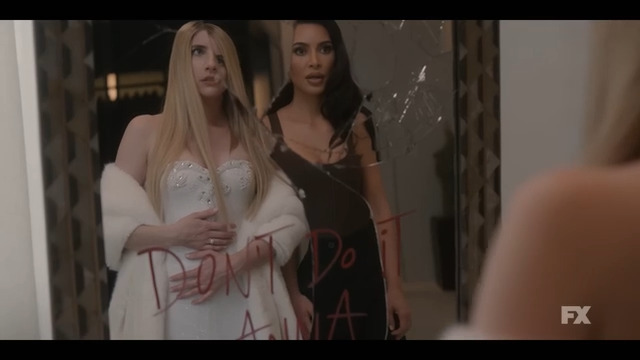 Kim Kardashian makes acting debut in AHS: Delicate trailer
"Kim K's Olivia Wilde line on AHS delicate SHOCKED me."
American Horror Story: Delicate has – for some reason – fired shots at Olivia Wilde, accusing her of gaslighting people over the Don't Worry Darling press tour drama.
AHS: Delicate, if you're not already watching, follows Emma Roberts' Anna, an actress, who is desperate to have a baby and an Oscar. Alongside her is Kim Kardashian's Siobhan, her publicist, who is attempting to manage her public image along the way.
READ MORE: Kim Kardashian earns huge praise for her acting on American Horror Story
In episode 2, Anna experiences a horrific vomiting episode on stage while accepting a Gotham Award. Mortified and panicking about what her next move will be, Anna seeks Siobhan's help. Siobhan, in full Kris Jenner mode, then suggests they pull a "Wilde" card, and while Don't Worry Darling is not mentioned by name, it's not hard to see exactly what they're referring to...
What did Olivia Wilde do? AHS: Delicate's Kim Kardashian scene explained...
The day after Anna's Gotham Award Vom Moment, Siobhan tells her: "We are going to pull a Wilde card – as in Olivia Wilde."
Explaining the Olivia Wilde play, she then adds: "Don't mention what happened and wait until everyone forgets, slash low-key gaslight people that do ask, and make them think that they're the problem because, you know...sexism."
For those that aren't well-versed on the Don't Worry Darling drama of it all, here's basically what happened: Reports of conflict between Olivia and the film's lead Florence Pugh emerged, seemingly fuelled by the fact that Olivia and Harry Styles (also in the film) started dating during filming.
Rumours then began circulating that Olivia was not always present on set because of her relationship with Harry. Florence's reluctance to promote the film added even more fuel to the fire.
All the rumours then led to a huge amount of backlash towards Olivia on social media, which many people claimed was rooted in sexism. During the film's press tour, Olivia vaguely addressed the barrage of questions about some of the rumours but mostly ignored it.
And now, over a year after it all happened, AHS is shading the hell out Olivia's response to it all and people have thoughts.
READ MORE: The Florence Pugh and Olivia Wilde drama rumours explained
"Kim K's Olivia Wilde line on AHS delicate SHOCKED me," one user tweeted after watching the episode. Referring to the tabloid rumours and accusations, another added: "Play the Olivia Wilde card!" Hook up with an actor in a movie we're directing while neglecting the movie itself...?"
"The Olivia Wilde shade ?? my god. #AHSDelicate," a third person wrote.
Others have come to Olivia's defence too. One user wrote: "You know writing is shit when you drag a woman that's already been relentlessly publicly harassed just to get some headlines for your show, and then to insinuate that sexism is overused as justification? A new level of brainless activity."
Oof!
Ashnikko Breaks Down 'Weedkiller' Track By Track | Making The Album