Jenna Ortega reveals she made multiple changes to Wednesday script
7 March 2023, 14:16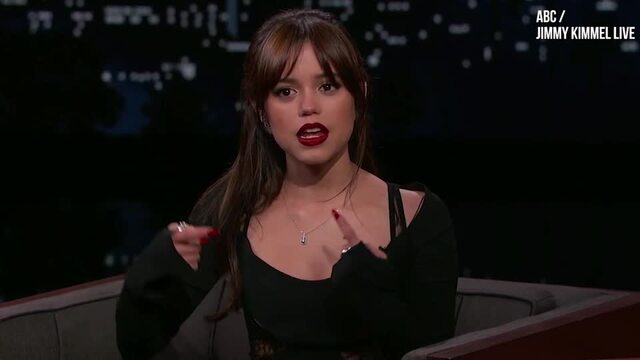 Jenna Ortega says it was "weird" working with Christina Ricci on Wednesday
"Everything that I had to play did not make sense for her character at all. Her being in a love triangle made no sense!"
Jenna Ortega has opened up about her struggles filming Wednesday and how she would often change her lines in the script.
Speaking on Dax Shepard's Armchair podcast, Jenna revealed that she still refuses to watch Wednesday and struggles to be proud of the work she did on the show. She said: "I haven't really done a teen show like that before. It's not particularly the kind of TV that I would watch so it felt very out of place for me."
She then explained: "Wednesday, there was not a scene in that show where I went home and was like, 'Okay, that should be fine'. Now, a lot of people know me from that. It's not my proudest moment internally which I also think adds an extra level of stress and insecurity."
Jenna then explained that she was often unhappy with Wednesday's lines in the script and became "unprofessional" on set.
READ MORE: Jenna Ortega recalls "hysterically" crying over intense Wednesday filming schedule
Going into depth, Jenna said that there were so many Wednesday scenes that made no sense to her: "I don't think I've ever had to put my foot down on a set in the way that I had to on Wednesday. Everything that she does, everything that I had to play did not make sense for her character at all. Her being in a love triangle made no sense!"
Jenna added: "There was a line about a dress that she has to wear for a school dance and she said, 'Oh my god, I love it! I can't believe I said that. I literally hate myself.' And I had to go, 'No!' There were times on that set where I almost became unprofessional in a sense where I just started changing lines."
Jenna ended by saying: "I grew very very protective of her but you can't lead a story and have no emotional arc because then it's boring and nobody likes you."
Elsewhere, Jenna said that the show was different to what she expected it to be: "When I first signed on, I didn't have all the scripts. I thought it was gonna be a lot darker...When I read the entire series, I realised, 'Oh this is for younger audiences'. I didn't know what the tone was. It was confusing in that sense definitely."
She also let slip: "I'm finally getting these offers to these places that I want but I don't want to be known specifically for [Wednesday]".
Read more Wednesday news here:
Munroe Bergdorf Paints A Self-Portrait And Answers Questions About Her Life | Portrait Mode