After Everything: Release date, plot, cast and updates about After Ever Happy sequel
9 September 2022, 15:11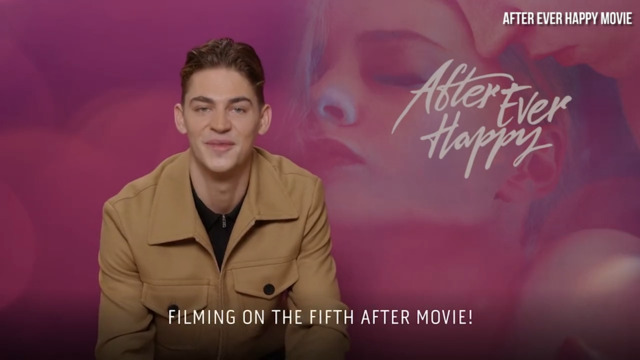 Hero Fiennes-Tiffin announces surprise fifth After movie
When does After Everything come out? Here's everything you need to know about the After Ever Happy sequel.
Surprise! Just when you thought the After franchise was coming to the end of Hardin and Tessa's turbulent love story, they've only gone and announced a fifth movie!
As fans of After will know, the movie series was supposed to end with After Ever Happy, which has just been released in US cinemas (UK fans will get to watch it on Amazon Prime on September 23rd). The plot of the After Ever Happy novel takes fans right up to the end of Tessa and Hardin's story, following them over the next 20+ years of their relationship.
However, with a fifth movie now confirmed, it seems like fans will get to see more of Hessa's relationship play out on screen. After Everything was announced in August 2022, but details about the plot are being kept under wraps.
Here's everything we know about After Everything so far, including the expected release date, and what might happen in the plot.
When does After Everything come out?
When will After Everything be released?
Well, the good news is that After Everything has already been filmed. Hero Fiennes Tiffin confirmed that piece of information in the announcement video shared on social media in August 2022.
But with After Ever Happy being released in September 2022, we likely won't see After Everything until 2023. There's no release date for the fifth movie just yet, but if it follows the yearly release pattern that we've seen with the previous After movies, fans could expect to see it at some point around September 2023.
Or maybe it'll arrive even earlier? Who knows! We'll update this page when more information is released.
Will Hero Fiennes-Tiffin and Josephine Langford be in After Everything?
After Ever Happy was originally meant to be the final outing for Hero and Josephine Langford as Hardin and Tessa, but it looks like they'll be back for one more round after all!
In the announcement that was shared on Instagram, both Hero and Jo were tagged which means they're very much back in business as Hessa.
After Everything will also likely be the last time we see Hero and Jo on screen as the couple. It was previously revealed that they will not be reprising their roles in either Before, or the previously announced sequel films that focus on their kids Emery and Auden.
After Everything plot: What happens in After Everything?
Well, considering there is no book that the film appears to be based on, it seems likely that After Everything's plot will be a continuation from where After Ever Happy leaves off. (There is actually a fifth book in the After series, but it's the Hardin Scott prequel novel, titled Before. After Everything seems like it will take place, well, after, everything...)
In the teaser, Hero said that he was not able to tell fans "too much about it just yet," implying that the plot is heavily dependent on how and when After Ever Happy ends in terms of Hessa's relationship.
If we're speculating and taking a wild guess at what might happen? After Everything will probably pick up from where After Ever Happy ends, detailing Hardin and Tessa's lives over those 20+ years in much more detail than the books do. But we'll have to wait and see...
For those that do want to know what happens at the end of After Ever Happy, you can read about it here.
Is there a trailer for After Everything yet?
There is currently no trailer for After Everything just yet. With the film not expected to drop until 2023, fans will probably have to wait a while before seeing a full trailer.
That said, the official After Twitter account might start teasing photos and clips from the final film on social media in the new year. Keep your eyes peeled!
Read more about After here:
Rina Sawayama Reacts To "Industry Plant" Rumour and Paints A Self-Portrait | PopBuzz Meets