High School Musical series confirms Ryan is gay in new 'reunion' trailer
26 July 2023, 12:35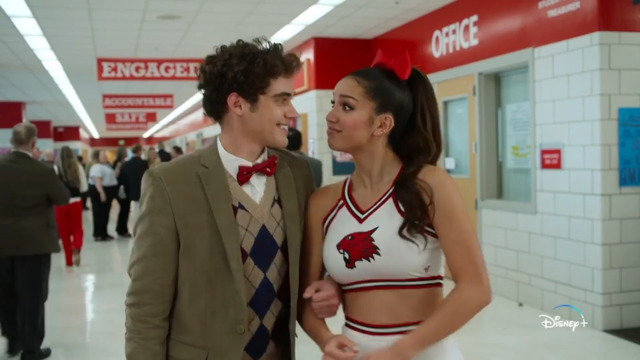 Watch the trailer for High School Musical: The Musical: The Series Season 4
The character of Ryan was always intended to be gay, but the films never confirmed or showed his sexuality.
The final season of High School Musical: The Musical: The Series is almost upon us, and the latest teaser promises some big surprises... (Troy and Gabriella, anyone?!)
in case you missed it, Lucas Grabeel, Corbin Bleu, Monique Coleman and Kaycee Stroh are all set to return. On top of playing themselves, they will also reprise their roles from the original HSM movies as they film the fictional High School Musical 4: The Reunion at the high school. The actual HSMTMTS characters will also get to play extras in the movie. Basically they're making a movie, within a TV show. It's very meta.
The new trailer reveals what fans can expect from the OG's return to the school where they filmed the iconic Disney Channel franchise, and while it's technically already been confirmed, the series looks like it's now finally about to confirm Ryan Evans' sexuality.
Yep, Ryan is gay – and he has a boyfriend!
READ MORE: Olivia Rodrigo leaves High School Musical: The Series – Read her goodbye message
In a newly released teaser for the fictional reunion, Ryan (played by Lucas) is seen sharing a kiss with his boyfriend before thanking him for coming to watch the performance.
"This means so much to me that you're here," Ryan says, as his boyfriend (played by Scott Hoying from Pentatonix) responds: "I love you." Ryan then heads back on stage to perform, adding: "Gimme that mic."
Based on Lucas and Kenny Ortega's previous comments about the character, Ryan was always intended to be gay, but it was never explicitly stated during the three original movies.
In 2020, original High School Musical director Kenny Ortega told Variety that he had always intended for Ryan to be gay, but didn't think audiences would be comfortable with it when the first movie was released in 2006: "I was concerned because it was family and kids, that Disney might not be ready to cross that line and move into that territory yet."
"So, I just took it upon myself to make choices that I felt that those who were watching would grab. They would see it, they would feel it, they would know it, and they would identify with it. And that is what happened."
Additionally, Lucas also told BuzzFeed back in 2016 that he knew Ryan was gay after reading the script.
"After reading the script, the first thing I said to [Kenny Ortega] was, 'OK, Kenny, Ryan's gay, right? I know it's Disney Channel so I'm not really gonna be gay, but I mean, yeah, right?'," he said. "And he's like, 'Well, think of it this way: You have the opportunity to play a character who's young, he's into theatre, he's an artist and let's go at it from that point of view,'"
"He talked to me about his own life and he was like, 'I see a lot of myself in Ryan. Yeah, I knew I was gay in high school, but I didn't tell anybody.' It was about making it real."
High School Musical: The Musical: The Series returns for its fourth and final season on August 9th on Disney+.
Read more about High School Musical here:
The Witcher Cast Interview Each Other | PopBuzz Meets