One Piece release time: Here's what time it comes out on Netflix
30 August 2023, 22:00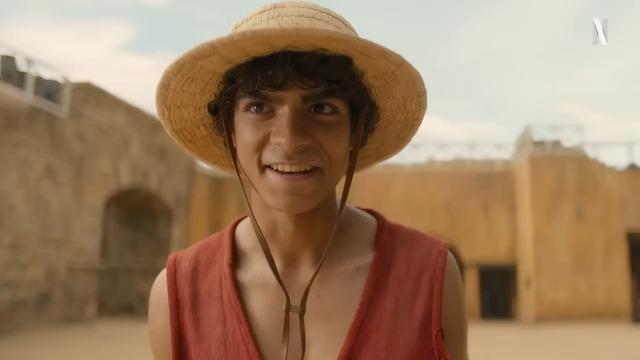 Behind the scenes of One Piece on Netflix
One Piece will be released on Netflix on August 31st at midnight PST. Here is what time it will be released in your country, including the US, UK, Brazil, India, Japan, Australia and more.
After years of waiting, it's finally here. The live-action adaptation of the popular Japanese manga series, One Piece, is hours away from being released on Netflix, but what time does it actually come out in your country?
One Piece, based on the manga of the same name written and illustrated by Eiichiro Oda, follows Monkey D. Luffy (Iñaki Godoy), a young aspiring pirate who is dead set on finding Gold Rogers' legendary treasure. Along the way, he encounters several other pirates – some allies, some enemies – who are also seeking the same treasure.
One Piece arrives on Netflix worldwide on Thursday August 31st. As usual, Netflix will release the full series at midnight Pacific Time. The exact time that all eight new episodes of the big-budget, swashbuckling series will appear on your Netflix account, however, will depend on where you live in the world.
Here's a helpful list of release times so you know exactly when One Piece is available to stream.
What time does One Piece come out on Netflix?
One Piece release times: Here's when it comes out in your country
One Piece will be released on Thursday, August 31st at 12AM Pacific Time (PT). The exact time that it's released in your country will depend on where you live in the world and what time zone you live in.
Here are the One Piece release times for a handful of major time zones, countries and cities:
United States (PT) - 12:00 AM
United States (ET) - 03:00 AM
Canada - 3:00 AM (Toronto), 12:00 AM (Vancouver)
Brazil (Rio De Janiero) - 4:00 AM
United Kingdom (BST) - 8:00 AM
Europe (Central European Time) - 9:00 AM
Europe (Eastern European Time) - 10:00 AM
South Africa (Cape Town, Central Africa Time) - 9:00 AM
India (New Delhi) - 12:30 PM
Indonesia (Jakarta) - 2:00 PM
Philippines (Manila) - 3:00 PM
Hong Kong - 3:00 PM
Singapore - 3:00 PM
Australia - 3:00 PM (Perth), 5:00 PM (Sydney)
Japan (Tokyo) - 4:00 PM
New Zealand (Auckland) - 7:00 PM
Find even more time zones here.
One Piece cast: Who plays Monkey D. Luffy, Nami, Zoro and the rest of the characters in One Piece?
The cast of One Piece is stacked with familiar faces and actors that might be new to some viewers. Here's who portrays the main characters in the Netflix series:
Monkey D. Luffy - Iñaki Godoy
Roronoa Zoro - Mackenyu
Nami - Emily Rudd
Koby - Morgan Davies
Usopp - Jacob Romero Gibson
Sanji - Taz Skylar
Vice Admiral Garp - Vincent Regan
The supporting and recurring cast include: Peter Gadiot as Shanks, Ilia Isorelýs Paulino as Captain Alvida, Aidan Scott as Helmeppo, Langley Kirkwood as "Axe-Hand" Morgan, Jeff Ward as Buggy, Celeste Loots as Kaya and Michael Dorman as Gold Roger... plus many, many more.
One Piece episodes: How many episodes are there?
There are eight episodes in One Piece, and they will all be available to stream at once on August 31st. The episode titles are as follows:
'Romance Dawn'
'The Man in the Straw Hat'
'Tell No Tales'
'The Pirates Are Coming'
'Eat at Baratie!'
'The Chef and the Chore Boy'
'The Girl with the Sawfish Tattoo'
'Worst in the East'
Read more Netflix news here:
Peach PRC Paints A Self-Portrait And Answers Questions About Her Life | Portrait Mode