Netflix's Sex Education to end with season 4
5 July 2023, 15:42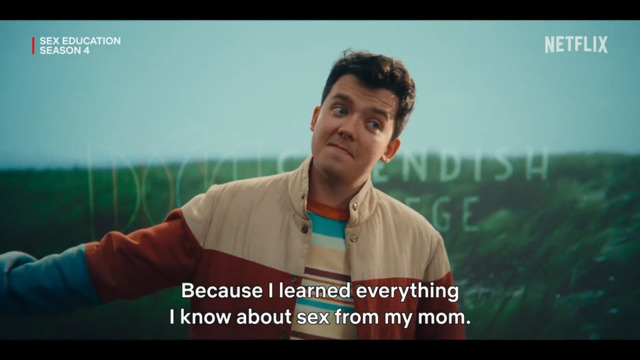 Sex Education season 4 confirmed as show's final season
The final season of Sex Education is coming.
After months and months of speculation, it's now been confirmed that Sex Education season 4 will be the final season of the beloved Netflix show.
Announced today (July 5), alongside the first trailer for the new season, Netflix revealed that we'll be heading back to school one last time with Otis (Asa Butterfield) and Eric (Ncuti Gatwa) as the students finally say goodbye to high school and head into the next chapter of their lives.
At the end of season 3, Moordale Secondary was shut down. Season 4 teases that the returning students are in a new school, with plenty of new characters and new relationships. But how will it all end and who will end up with who? Watch the full trailer at the top of the page.
READ MORE: Do Otis and Maeve get together in Sex Education season 3? Cliffhanger ending explained
Sex Education's season 4 trailer opens with Otis introducing himself to his new schoolmates alongside the rest of the Moordale High students who transferred at the end of season 3. Of course, it doesn't take long for him to shock the entire crowd as he explains how much he knows about sex – and why. ("I learnt everything I know about sex from my mum"? Oh, Otis... Babes!)
Eric, Jackson, Viv, Aimee, Ruby and Isaac are all there too, while Maeve is off studying in the US. Adam Groff and Mr. Groff are also seen in the trailer, as well as the iconic Jean Milburn, who is now a new mother to baby Joy. (There's no sign of Jakob in the trailer, though. Upsetting!)
Fans also get their first glimpse at Dan Levy as Maeve's new Ivy League tutor.
The synopsis for the final season reads: "Following the closure of Moordale Secondary, Otis and Eric now face a new frontier - their first day at Cavendish Sixth Form College. Otis is nervous about setting up his new clinic, whilst Eric is praying they won't be losers again.
But Cavendish is a culture shock for all the Moordale students - they thought they were progressive but this new college is another level. There's daily yoga in the communal garden, a strong sustainability vibe and a group of kids who are popular for being… kind?! Viv is totally thrown by the college's student-led, non-competitive approach, while Jackson is still struggling to get over Cal.
Aimee tries something new by taking an Art A-Level and Adam grapples with whether mainstream education is for him. Over in the US, Maeve is living her dream at prestigious Wallace University, being taught by cult author Thomas Molloy. Otis is pining after her, whilst adjusting to not being an only child at home, or the only therapist on campus…"
It was previously announced that Simone Ashley (Olivia), Patricia Allison (Ola) and Tanya Reynolds (Lily) would not be part of season 4, so fans sadly won't get to see them back now that the show is officially ending.
We'll have to wait and see how the rest pans out when Sex Education season 4 drops on Netflix on September 21st.
Leigh-Anne Picks Her Own Interview Questions | PopBuzz Meets