Red, White & Royal Blue director reveals how they made the gay sex scenes "authentic"
14 August 2023, 17:49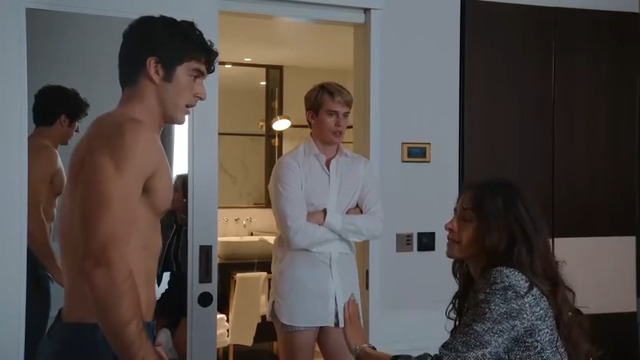 Alex and Henry get caught in Red, White, and Royal Blue clip
Alex and Prince Henry's sex scenes have been praised for depicting gay sex scene on screen in a realistic way.
Red, White & Royal Blue director Matthew Lopez has opened up about the film's gay sex scenes and making them accurate.
As soon as Red, White & Royal Blue debuted on Prime Video last week (Aug 11), fans praised the film for its depiction of gay sex. In particular, people are praising the sex scene in which Alex (Taylor Zakhar Perez) and Henry (Nicholas Galitzine) have penetrative sex for the first time. The romcom makes sure to include realistic dialogue about positions and experience.
Now, Matthew Lopez has revealed how he, Taylor and Nicholas ensured that Alex and Henry's sex scenes felt true to life.
READ MORE: Taylor Zakhar Perez felt "pressure" to portray the gay love story in Red, White & Royal Blue accurately
Speaking to Queerty about the sex scenes in Red, White & Royal Blue, Matthew said: "Well, anybody who has read the book knows that they're really horny for each other, you know? Part of the charm of the novel is how they really can't stop having sex, and it's fun! I couldn't tell this story without telling that part of the story."
He then revealed that it was important that both he and the intimacy coordinator, Robbie Taylor Hunt, were gay. He said that they both reflected on their personal experience to get everything right.
Matthew stated: "We know how two men have sex because we both, individually, have been doing it for quite a number of years. So I didn't want it to be phony, and I didn't want an audience who knew what was going on to suddenly go, "Well, that couldn't happen. That's the wrong angle!" You know?"
He continued: "It just had to be physically accurate. And it had to feel very authentic."
Matthew explained that choreography was required to get it right. He said: "It was, "Okay, this is how I'm gonna frame this." I needed to not stray too far away from their faces because, ultimately, I was really interested in the emotional journey that they were taking. But then it was just about having a lot of rehearsals and a lot of conversations with the actors."
He then added: "Robbie and I decided that the moment we were going to investigate was the "moment of insertion," the moment when Alex goes into Henry. And we were going to focus like a laser beam on that moment."
Discussing the rating, Matthew said: "We all sort of suspected is that it would probably get us an R-rating. And it did! And that rating came with notes from the MPAA on what we could do in order to get a PG-13 rating, and it was basically, "eviscerate that scene." And we were all—all of us: me, producers, studio—we just said, "No thank you."
Matthew ended by saying: "And that's it, there was no conversation whatsoever after the R-rating came to us about changing it. It was just—there was not even a single email about it. It was accepted, and we moved on."
Read more Red, White & Royal Blue news here:
NCT DREAM vs. 'The Most Impossible NCT DREAM Quiz' | PopBuzz Meets