You season 4 will be released in February 2023 on Netflix
24 September 2022, 19:02 | Updated: 24 September 2022, 19:13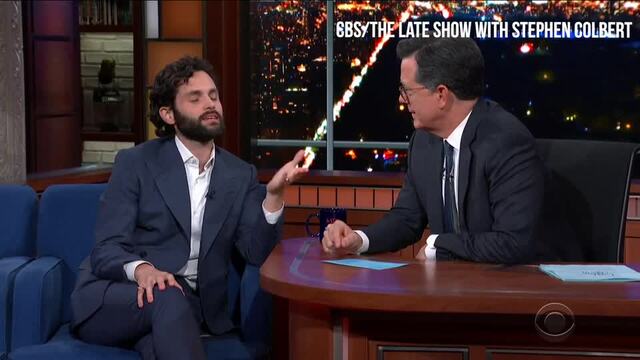 Penn Badgley reacts to fans wanting to date Joe from You
Joe Goldberg? Nope, it's Professor Jonathan Moore now!
Joe Goldberg is almost back... We finally have a release date for You season 4!
Taking a leaf out of Stranger Things 4's book, You season 4 will be released in TWO PARTS (!). Part One will drop on Netflix on February 10th 2023, with Part Two following on March 10th 2023.
You season 3 ended with Joe killing his wife Love, and staging it to look like she had killed him and then herself. Of course, Joe was one step ahead of the game the whole time and fled Madre Linda for a new life in London – but not before making a brief stop in Paris to stalk former flame Marienne first.
You season 4 sees Joe set up shop in London under a brand new alias: Professor Jonathan Moore. And in a voiceover in the first teaser trailer, he teases exactly what fans can expect in the new season.
"Hello, you," Joe teases in the short clip. "I'm not the loveable book store manager in New York, or the shop clerk in LA or the doting husband in the suburbs. No, not anymore. Allow me to introduce myself. I've gone through a bit of refinement upon crossing the pond and living in London has allowed me to bury the past, if you will."
He continues: "Gone are the days of unrequited love and longing. This time, I'm focusing on academia and instruction, while keeping my typical extra curricular activity strictly professional."
Then, viewers get a brief hint at what's about to go down in the new season: "Unfortunately with friends in high places, there usually comes others attempting to climb that social ladder. So they end up falling – or shall I say pushed? – to their social death. The question is: By whom?"
It looks like some good old-fashioned murder will be back on Joe Goldberg's menu in season 4!
YOU | Season 4 Date Announcement | Netflix
The teaser also gives us the first look at all the brand new characters that will soon find themselves in Joe's sinister orbit, including Charlotte Richie's Kate, who will be the new female lead in season 4.
Kate is a "fearsomely smart, loyal, independent, art gallery director. Kate's cultivated life gets shaken up when her boyfriend Malcolm invites Joe into their upscale world, and she is immediately suspicious".
Several other main characters have also been introduced, including Adam (Lukas Gage), Lady Phoebe (Tilly Keeper), Nadia (Amy Leigh Hickman), and Rhys (Ed Speelers). Tati Gabrielle's Marienne will also return in season 4.
You can find the complete list of all the new characters and their character descriptions right here.
Read more about Netflix's You here:
Rina Sawayama Reacts To "Industry Plant" Rumour and Paints A Self-Portrait | PopBuzz Meets