The Summer I Turned Pretty season 2 ending explained: Here's who Belly ends up with
19 August 2023, 14:57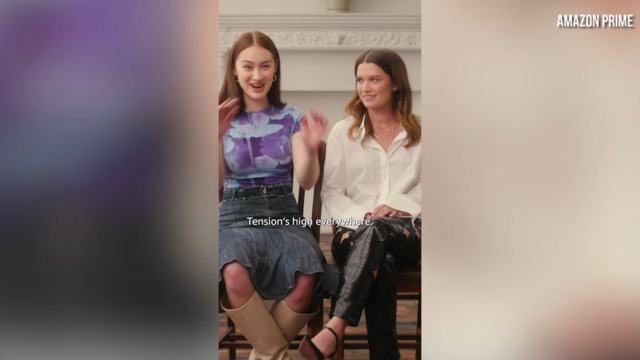 The Summer I Turned Pretty cast explain season 2
Who does Belly end up with in The Summer I Turned Pretty season 2? Here's what happens to each character in the finale.
The wait is over. The Summer I Turned Pretty season 2 finale is finally here and we now know which boy Belly ends up with.
Ever since The Summer I Turned Pretty returned in July, fans have been desperate to find out if Belly ends up dating Conrad or Jeremiah. Season 1 ends with Belly (Lola Tung) and Conrad (Christopher Briney) kissing. However, since then, they have called things off, gotten back together and split up. Jeremiah (Gavin Casalegno) has also come back into the picture.
All season long, it's unclear whether Belly will pick Conrad or Jeremiah but now she's made a decision. Not to mention, we also know if Steven and Taylor are a thing and how the rest of the story pans out. Here's exactly how season 2 ends.
READ MORE: The Summer I Turned Pretty season 3: Release date, cast, plot and book spoilers
The Summer I Turned Pretty season 2, episode 7 ends with Conrad catching Belly and Jeremiah kissing. The trio then face a very awkward car journey together with Conrad making very clear just how angry he is. However, the characters are forced to spend even more time together when a storm hits and they have to spend a night in a motel.
In classic teen drama fashion, there is only one room in the hotel. The boys decide to sleep on the floor so Belly can have the bed to herself. In the night, Conrad and Jeremiah have a heart to heart and agree not to let Belly get between them. Conrad then decides to pretend to be over Belly so that Jeremiah and Belly can be happy.
The season ends with Belly thinking that Conrad no longer cares for her and deciding to officially date Jeremiah. As the episode ends, Jeremiah takes Belly to Volleyball camp and they are happier than ever. Neither of them realising that Conrad's heartbroken and still wants to be with Belly.
READ MORE: Here's who Belly actually ends up with in The Summer I Turned Pretty books
Elsewhere, Steven and Taylor officially become a couple and Skye and Cameron kiss. Meanwhile, Conrad and Jeremiah's dad agrees to buy the Cousin's Beach house from Julia and Skye and Julia become close with Conrad and Jeremiah. On top of that, Laurel opens up to Belly about her grief and the mother daughter duo patch up their relationship.
Are Jeremiah and Belly forever? You'll have to wait until season 3 or read what happens to them and Conrad in our full breakdown of the third book to know the answer.
Read more about The Summer I Turned Pretty here:
NCT DREAM vs. 'The Most Impossible NCT DREAM Quiz' | PopBuzz Meets