The Summer I Turned Pretty hints Jeremiah will have a new love interest in season 2
26 April 2023, 17:29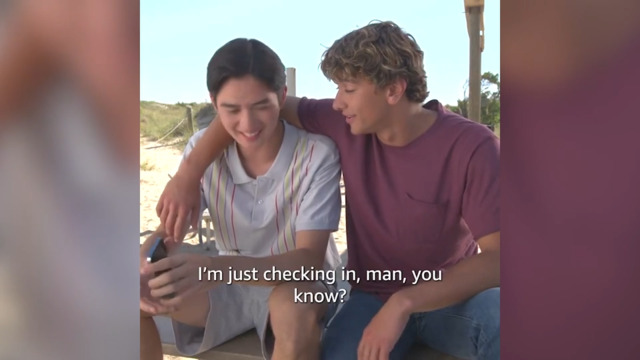 Jeremiah encourages Steven to move on from Shayla in The Summer I Turned Pretty season 2 teaser
Fans are convinced that Jeremiah will date Elsie Fisher's character Skye in The Summer I Turned Pretty season 2.
The Summer I Turned Pretty season 2 is almost here and it looks like Jeremiah will have a new love interest alongside Belly.
As soon as The Summer I Turned Pretty debuted on Prime in 2022, fans quickly fell in love with Jeremiah (Gavin Casalegno). Belly (Lola Tung) originally only has eyes for Conrad (Christopher Briney) but it soon becomes clear that she may be more suited to Conrad's charming brother Jeremiah. Unlike Conrad, Jeremiah never fails to put a smile on Belly's face.
Outside of Belly, it's made clear that Jeremiah has a pretty storied romantic past. We learn that he's dated numerous girls and boys and, in episode 3, we also see Jeremiah make out with a boy named Luke at a party. Now, it appears that The Summer I Turned Pretty is putting Jeremiah in a whole new love triangle by giving him another love interest.
READ MORE: The Summer I Turned Pretty fans are furious that Shayla won't be in season 2
Last week (Apr 21), Prime Video released the first The Summer I Turned Pretty season 2 poster via the official The Summer I Turned Pretty Instagram account and fans were quick to notice that each character is looking at someone in particular. For example, Conrad and Jeremiah are both looking at Belly. Meanwhile, Cam and Steven are both looking at Taylor.
Based on what happened in the first season, fans think that the poster is hinting at what relationships we can expect to evolve in season 2.
One fan wrote: "Bro I can literally see the new love triangles just by looking at who they're seeing". Another commented: "LOOK AT WHO THE CHARACTERS ARE LOOKING AT".
However, it's a new character in the top right corner of the poster that is sending fans into meltdown. Played by the amazing Elsie Fisher (Eighth Grade), Skye is a new addition to The Summer I Turned Pretty universe and they can be seen looking lovingly at Jeremiah. As a result, people think that Jeremiah and Elsie might date in season 2.
Teasing who Skye is, Elsie told E! News: "We get to create this whole new person. Part of what really drew me to the project is that I get to play a person that still feels very true to myself, but is different from the kind of character people have seen me play before."
Skye isn't in the books. However, given that the show has already deviated from the books, we wouldn't be shocked if Jeremiah and Skye end up being an item.
FLO Spill Their Secrets In 'The Tower Of Truth' | PopBuzz Meets