Ariana Grande and Demi Lovato have both left Scooter Braun as a manager
22 August 2023, 11:20 | Updated: 22 August 2023, 12:12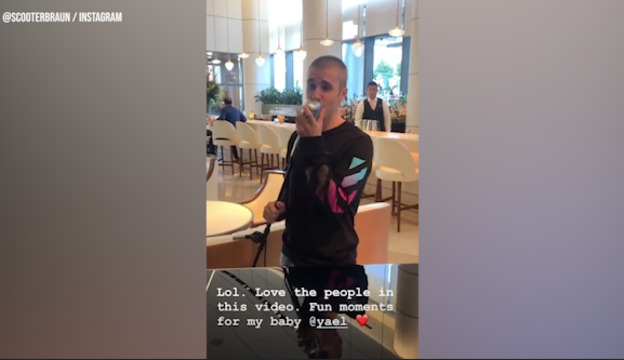 Watch Justin Bieber serenade Scooter Braun and his wife on her birthday
The news comes shortly after claims that Justin Bieber is no longer in contact with Scooter Braun.
Ariana Grande and Demi Lovato have both reportedly parted ways with controversial music manager/mogul Scooter Braun.
Scooter Braun may be most famous for helping discover Justin Bieber but, in the years since, the 42-year-old has also gone on to work with numerous other A-list clients. Over the course of the past decade, Scooter has managed the likes of Kanye West, Ariana Grande, Demi Lovato, Carly Rae Jepsen and J Balvin.
However, Scooter has also faced backlash after Taylor Swift accused him of "bullying" her. In 2020, Taylor Swift's old label, Big Machine sold her masters to Scooter despite Taylor making clear that she did not want Scooter to own them. This is why Taylor is currently rerecording all her old albums.
Now, news has broken out that both Ariana and Demi have decided to leave Scooter and seek management elsewhere.
READ MORE: Ariana Grande calls out people body-shaming her over her change in appearance
According to Entertainment Weekly, "a source close to the situation" confirmed on Monday (Aug 21) that Grande has parted ways with Scooter. Ariana and Scooter first began working together in 2013 when Ariana released her debut album Yours Truly. Ariana left Scooter's management in 2015 but they reunited during the Dangerous Woman era.
Meanwhile, Billboard has reported that Demi ended things with Scooter in July and is currently looking for a new manager. They say that the decision was amicable and Demi is simply in search of "a new direction". Demi originally signed with Scooter in 2019 and released two albums under his management.
The news follows a false Puck report that Justin Bieber had left Scooter and hadn't spoken to him for months. Shortly after the report came out, representatives for both Justin and Scooter told Page Six that the report was incorrect.
As it stands, Ariana and Demi are yet to comment further on their split from Scooter. We shall update you if they do.
Scooter currently still managers the likes of Ava Max, Black Eyed Peas, Dan + Shay, Tori Kelly and Justin Bieber.
Peach PRC Paints A Self-Portrait And Answers Questions About Her Life | Portrait Mode