Ariana Grande reveals she has stopped using botox and fillers in emotional video
13 September 2023, 12:06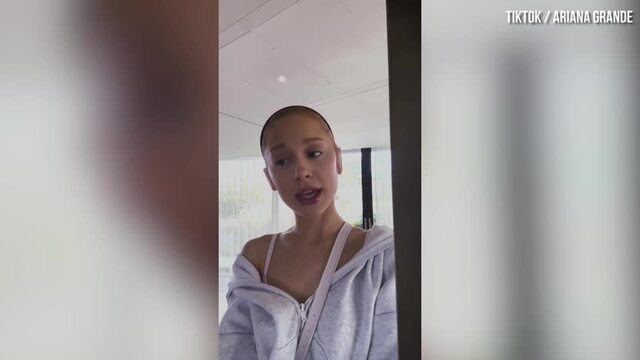 Ariana Grande addresses concerns about her body
"Full transparency as a beauty person, I've had a ton of lip filler over the years and botox."
Ariana Grande has revealed that she's stopped using botox and fillers in an emotional new makeup tutorial video for Vogue.
In the video, Ariana explains that she struggled with her appearance when she first rose to fame and used to use makeup as a way to cover up her insecurities.
She said: "I over the years used makeup as a disguise or something to hide behind. As I get older, I don't love that being the intention behind it. I think of it as self-expression and accentuating what is here."
Ariana then speaks candidly about her relationship with cosmetic surgery and why she's stopped having procedures done.
READ MORE: Ariana Grande explains why she scrapped "horrible" original Yours Truly album cover
In the video, Ariana says she couldn't do a beauty video without being honest about work she has had done in the past. She admitted: "Full transparency as a beauty person, I've had a ton of lip filler over the years and botox. I stopped in 2018 cause I felt so - too much." This is the first time that Ariana has ever spoken about having fillers and botox.
Tearing up, Ariana then added: "Didn't expect to get emotional. For a long time beauty was about hiding for me and now I feel like maybe it's not." She then made clear that she thinks people should do whatever makes them feel beautiful.
As for why she stopped having botox and fillers, Ariana said she wants to see her "well-earned cry lines and smile lines". She said: "I hope my smile lines get deeper and deeper and I laugh more and more...I just think aging can be such a beautiful thing."
However, she also quipped: "Now, might I get a face life in 10 years, I might yeah?" Iconic.
Fast forward to 9:00 to hear Ariana's comments.
Ariana Grande's Skin Care Routine & Guide to a '60s Cat Eye | Beauty Secrets | Vogue
Naturally, fans are praising Ariana for being so honest about the work she's had done when it's still so rare for celebrities to admit to having cosmetic surgery. A person tweeted: "Good for her! She's setting a positive example for young girls and I respect the hell out of it."
Another fan wrote: "She's so real for this coz usually celebrities deny deny deny." Someone also said: "it takes courage to open up like this, preach Ariana!"
Filler or no filler, we love you Ariana!
Olivia Rodrigo vs. 'The Most Impossible Olivia Rodrigo Quiz' | PopBuzz Meets