Billie Eilish shows off huge back tattoo: Here's the meaning behind it
19 October 2023, 13:17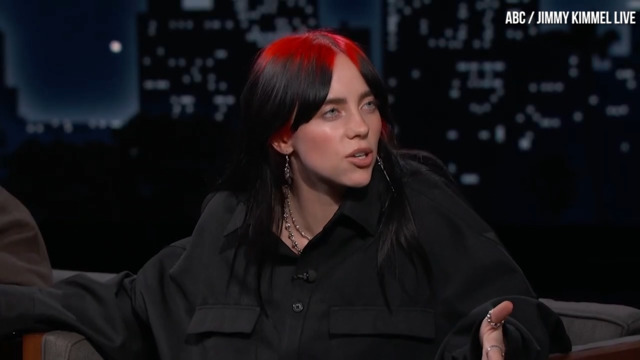 Billie Eilish says Bad Guy is "the stupidest song in the world"
The meaning behind Billie Eilish's new full back tattoo explained.
Billie Eilish has surprised fans by posting a photo of her brand new full back tattoo in the midst of an Instagram photo dump.
Billie Eilish is no stranger to tattoos. Ever since she turned 18, Billie has decorated her body with various meaningful inks. In a Vanity Fair interview in 2021, Billie revealed that she has a tattoo of her last name on her chest ("Yes, I love myself"). She also showed off a tattoo that she has of some fairies on her left wrist ("They're like my little guardian angel fairies").
READ MORE: Billie Eilish fans call out Jesse Rutherford over his "creepy" POV lyrics
Now Billie has added to her ever-growing collection with a new tattoo that runs down from her neck to the end of her spine.
What does Billie Eilish's back tattoo mean?
In the photo Billie posted yesterday (Oct 18), it appears that she is still having the tattoo applied. Back in September, she let fans see a glimpse of the top of the tattoo on Instagram and tagged her New York tattoo artists Matias Milan in the photo.
As it stands, Billie is yet to personally open up about the meaning of the tattoo but it appears to be a sigil tattoo. A sigil is a symbol used in magic to represent a spirit or a deity and sigil tattoos are often associated with power and intention. Given that Billie's tattoo is a unique, abstract design, it's likely that it will have a meaning that's specific to her.
Reacting to the tattoo on Instagram, one fan commented: "It looks absolutely killer." A lot of people were also just living for the how big it is writing: "THE BACK TATTTTT."
Billie isn't the first pop star to get a huge back tattoo. Just this year, Doja Cat unveiled a bat tattoo that spans all across her shoulders.
What do you think of Billie's new tattoo?
Troye Sivan Paints A Self-Portrait While Answering Deep And Chaotic Questions