Demi Lovato says explaining they/them pronouns was "exhausting" so she reclaimed she/her
15 June 2023, 14:17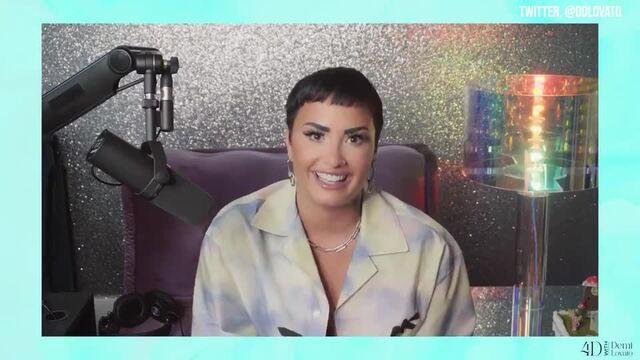 Demi Lovato comes out as non-binary
"I constantly had to educate people and explain why I identified with those pronouns. It was absolutely exhausting."
Demi Lovato has explained that she re-adopted she/her pronouns after it became too "exhausting" trying to explain and educate people about what they/them pronouns meant.
Back in 2021, Demi announced that they are nonbinary and would be using they/them pronouns. Since then, Demi has been very open in sharing their gender identity journey, adding that it's possible that they might not identify as nonbinary for their entire life.
Later, in April 2022, Demi updated their pronouns on social media to include she/her. In a new profile, Demi has now opened up about the reason behind why she decided to reclaim them.
READ MORE: Demi Lovato warns young girls that dating older men is not "sexy or fun"
In an interview with GQ Hype Spain, translated from Spanish to English, Demi shared why she re-adopted she/her pronouns in addition to they/them pronouns. (The interviewer also notes that Demi chose to use she/her pronouns in the profile.)
"I constantly had to educate people and explain why I identified with those pronouns. It was absolutely exhausting," she said of her gender neutral pronouns.
"And that is one of the reasons that have led me to also feel comfortable with the feminine pronoun. I just got tired. But for that very reason I know that it is important to continue spreading the word."
Speaking further about the lack of understanding and feeling like there's a lack of neutral spaces for nonbinary people, Demi said: "I face this every day. For example, in public toilets. Having to access the women's bathroom, even though I don't completely identify with it. I would feel more comfortable in a genderless bathroom."
"Or it also happens when filling out forms, such as government documents or any other where you have to specify your gender," she added. "You only have two options, male and female, and I feel like none of that makes sense to me. I see myself conditioned to choose a woman because there are no more. I think this has to change. Hopefully with time there will be more options."
Ultimately, Demi tries to focus on the positives that her activism and platform brings to other nonbinary people: "It will be worth it as long as there are people who tell me that I am an inspiration to them or that I have helped them learn more about themselves and feel more comfortable in their skin. That's the most meaningful thing to me."
Niall Horan Breaks Down Every Song On 'The Show' | Making The Album