Have Miley Cyrus and Noah Cyrus fallen out? The feud rumours explained
16 October 2023, 12:20 | Updated: 16 October 2023, 17:36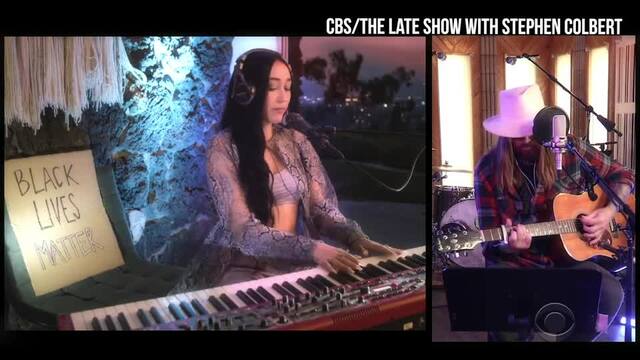 Noah Cyrus and Billy Ray Cyrus perform 'Young and Sad' together
Miley Cyrus fans are convinced that Noah Cyrus just made a dig at her sister in a recent TikTok comment.
Miley Cyrus and Noah Cyrus fans think that a feud is brewing between the two sisters but is there any truth to the rumours?
In the past, Miley and Noah have been close and often praised each other in interviews. However, Noah has also been open about how being Miley's sister has affected her. In an Instagram live in 2020, Noah said: "Everybody gave me such a hard time for having a hard time being Miley's little sister, but I always felt I was that person that no one gave a shit about."
Now, people are convinced the sisters have fallen out after Noah left a shady comment under an old Miley Cyrus interview.
READ MORE: Miley Cyrus says she quit touring because it 'erases her humanity'
In 2020, Miley appeared as a guest on Joe Rogan's podcast and a clip from the interview is now going viral on TikTok. In the clip, Joe asks Miley about her sister and Miley says: "She's got a record out that I love called The End of Everything—And it's the most depressing EP you'll ever listen to."
Describing Noah further, Miley says: "She's 20 years old, she's emo. She's, like, an emo kid. She has a song where she says, 'My sister's like sunshine, it'll follow her wherever she goes. But I'm more like a rain cloud.' You know, it's like, she's really got this idea of me."
When Joe suggests that Noah needs to go to a doctor, Miley explains: "She is. We're all at the doctor a lot. She's dealing with it. But she's only 20, so I worry about her."
Now, fans have spotted that Noah has commented on the clip writing: "The disrespect in this video."
Noah Cyrus comments under TikTok of her sister Miley Cyrus interview about growing up with a famous sister.

"The disrespect in this video..." pic.twitter.com/B19b1eVMfG

— Miley Cyrus Updates (@MileyCyrusBz) October 11, 2023
It's possible that Noah was just calling out Joe but fans think that the comments are directly aimed at Miley too. One person commented: "It honestly came off condescending and disrespectful. For her to talk openly about her sister like that yikes."
Others think Noah is blowing things out of proportion because of rumoured drama that she with Miley. A fan wrote: "[Noah] had three years to say something. She's only saying this 'cause the family is divided between her mom and her dad."
Last year, Miley and Noah's parents Billy Ray Cyrus and Tish Cyrus officially got divorced and this year and Tish got married to Prison Break actor Dominic Purcell. Miley attended the wedding with her siblings Trace and Brandi but Noah and her brother Braison skipped the wedding.
Not only that but Noah and Braison posted Instagram stories of them hanging out while the wedding was happening. Noah wrote that Braison "flew out" especially to see her all while wearing Billy Ray Cyrus merch. Fans interpreted it as a dig towards Tish and Dominic.
Whether or not, this caused any issues between Miley and Noah is yet to be confirmed.
In the past, Noah, who is 23, and Miley, who is 30, have often spoken about how close they are so it's possible that Noah's recent TikTok comment was only directed at Joe.
What do you think? Is this a genuine feud or are people reading too much into it?
Read more Miley Cyrus news:
Troye Sivan Paints A Self-Portrait While Answering Deep And Chaotic Questions