Olivia Rodrigo says she dated people she "shouldn't have" after Sour came out
25 August 2023, 14:33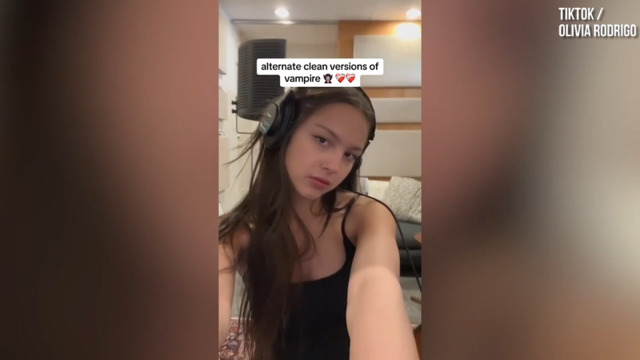 Olivia Rodrigo reveals alternate "fame-fucker" lyrics she tried for Vampire
"I did things that maybe I shouldn't have — dated people that I shouldn't have."
Olivia Rodrigo has opened up about her dating life and said she dated people she shouldn't have after she first rose to fame.
Ever since Olivia Rodrigo released 'Drivers License', her love life has come under scrutiny. Many people speculated that a lot of Sour was inspired by Olivia's rumoured relationship with her former co-star Joshua Bassett. Fans have also speculated that Olivia's recent single 'Vampire' was inspired by her rumoured relationship with DJ and influencer Zack Bia.
However, in spite of the odd paparazzi photo or public sighting, Olivia has chosen to keep all of her romantic relationships private and chosen not to discuss them in interviews. Now, Olivia has discussed what it was like to date after Sour.
READ MORE: Olivia Rodrigo explains the hilarious meaning behind her Bad Idea Right lyrics
Speaking to the New York Times about her love life, Olivia said: "I had such a desire to live and experience things and make mistakes and grow after Sour came out, I kind of felt this pressure to be this girl that I thought everyone expected me to be. And I think because of that pressure, maybe I did things that maybe I shouldn't have - dated people that I shouldn't have."
While Olivia has never commented on her relationships publicly, she was spotted with 24-year-old film producer Adam Faze multiple times over several months in 2021 when she was 18. Olivia was then linked to producer Zack Bia for six months in 2022 when Olivia was 19 and Zack was 26.
Fans think that Olivia's 'six months of torture' lyric in 'Vampire' is a reference to her rumoured relationship with Zack. 'Went for me and not her 'cause girls your age know better' also appears to be a dig at how much older he was than her.
Elsewrere, the line "famefucker" appears to be a reference to the fact that Zack has dated many other famous women including Noah Cyrus, Madison Beer and Madelyn Cline.
Discussing what she's really like as a person, Olivia said: "I'm very tame."
Elsewhere in the interview, Olivia explained that Guts is about her discovering who she really is after those relationships. She said: "It's about reckoning with those feelings and coming out of that disillusionment and realizing the core of who I am and what I want to be doing and who I want to be spending my time with."
Olivia said at first that she felt like she had to go through pain to write a hit. She said; "How am I going to write songs that resonate with people? I could do a chart of, like, when I'm the saddest and when I write the songs that make the most money."
However, with Guts Olivia says that she has started writing from "a place of happiness". We can't wait to hear what the rest of the album sounds like.
Read more Olivia Rodrigo news stories here:
Peach PRC Paints A Self-Portrait And Answers Questions About Her Life | Portrait Mode