Are Taylor Swift and Olivia Rodrigo still friends? A full timeline of their friendship
6 July 2023, 16:25 | Updated: 6 July 2023, 16:53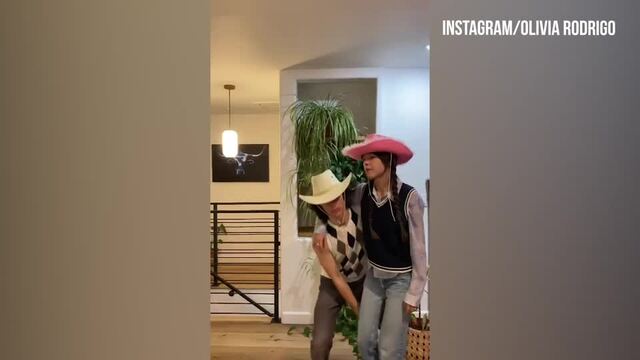 Olivia Rodrigo and Conan Gray reenact Taylor Swift's songs
Did Taylor Swift sue Olivia Rodrigo? Did they fallout? Everything you need to know about Olivia Rodrigo and Taylor Swift's relationship.
Olivia Rodrigo and Taylor Swift used to openly support each other so why do people think that their friendship turned sour?
Ever since Olivia Rodrigo released her debut single 'Drivers License', people have compared her songwriting style to Taylor Swift's. Just like Taylor, Olivia has a skill for writing relatable lyrics about love and heartbreak that connect with millions of listeners all around the world. Olivia also has a Swiftian penchant for dropping easter eggs in everything she creates.
At the start of her career, Olivia spoke openly about how much she loves Taylor and took inspiration from her. However, in recent years, Olivia has stopped bringing up Taylor in interviews and even ended up retroactively crediting Taylor on her single 'Deja Vu'. This led people to think that Taylor tried to sue Olivia. What actually happened though?
Here's the full timeline of Olivia and Taylor's relationship and whether or not there's any truth to the ongoing feud rumours.
READ MORE: Madison Beer appears to confirm Olivia Rodrigo's Vampire is about Zack Bia
2006-2020 - Olivia was a day one Swiftie
Long before Olivia started releasing her own music, she was effusive about how much she loves Taylor all over social media. From road trip singalongs to impromptu Taylor Swift covers, Olivia always made clear that she was a stan of Taylor. Olivia even shared throwback photos to Instagram which show her stanning Taylor as a young girl.
April 2020 - Taylor praises Olivia's 'Cruel Summer' cover
In April 2020, Olivia covered Taylor Swift's 'Cruel Summer' on Instagram live. The rendition received widespread praise and even got attention from Taylor herself. Taylor posted the cover to her Instagram stories with the caption: "Talent".
Reacting to the story, Olivia shared a now-deleted Instagram post with the caption: "TAYLOR SWIFT IS THE REASON I WRITE SONGS AND SHE POSTED ME ON HER STORY AND TOLD ME I WAS TALENTED??? WHEN IS ASHTON KUTCHER GONNA JUMP OUT OF A BUSH WITH A CAMERA CREW!!!???!??!"
cruel summer - olivia rodrigo (taylor swift cover)
June 2021 - Taylor sends Olivia a Folklore cardigan
To celebrate the release of Folklore and 'Cardigan' in 2020, Taylor sent literal cardigan merch to many of her famous friends and fans. Kesha, Jennifer Hudson, Loren Gray, Kelsea Ballerini, Adam Lambert and Jonathan Van Ness all posted pictures with their Taylor cardigans.
Among them was Olivia. Olivia posted a series of photos in the cardigan in a now-deleted Instagram post with the caption: "me standing in my cardigan that u put on and said was ur favourite. folklore is rearranging the neurons in my brain".
Olivia also posted a story in the cardigan with the caption: "never taking this off".
January 2021- Taylor says she's "really proud" of Olivia
Following the release of 'Drivers License', Olivia zoomed to the top of the US iTunes chart alongside Taylor's songs 'It's Time to Go' and 'Right Where You Left Me'. Olivia shared a screenshot of the chart to Instagram with the caption: "next to taylor on the us i tunes chart i'm in a puddle of tears."
Taylor then commented: "I say that's my baby and I'm really proud." Olivia also posted a video in response mouthing along to Taylor's iconic CMAs quote: "I can't believe this. This is the highlight of my senior year."
March 2021 - Olivia praises Taylor in multiple interviews
While promoting 'Drivers License', Olivia opened up about how much Taylor inspires her. Speaking to Capital FM about Fearless (Taylor's Version), Olivia exclaimed: "I'm so excited for it!!! I'm literally going to have a listening party with one of my friends. It's gonna be incredible. I just think she's such a great artist."
As for their friendship, Olivia said: "Taylor's been really lovely and so welcoming of me. I feel really lucky to be in an industry at such a young age where I get to walk through so many of the doors that she's opened. I'm really lucky to have her as a mentor."
Olivia Rodrigo Talks About Taylor Swift Friendship | Interview | Capital
March 2021 - Taylor sends Olivia a ring
In an interview with SiriusXM, Olivia revealed that Taylor sent her a gift. She said: "She is absolutely the kindest individual in the whole world. Actually, last night — like literally 12 hours ago — I got a package from her with this handwritten note."
Olivia added: "She gave me this ring because she said she wore one just like it when she wrote Red and she wanted me to have one like it and all of this amazing stuff, she's like hand-wrapped these gifts."
Fans later deduced that the ring was Cathy Waterman's "Love" ring and it cost $3,200.
Taylor Swift Sent Olivia Rodrigo a Really Special Gift
April 2021 - Taylor enlists Olivia and Conan Gray to help promote Fearless (Taylor's Version)
Ahead of the release of Fearless (Taylor's Version), Taylor sent Olivia and Conan Gray clips of the album to preview on social media. Olivia and Conan posted an array of adorable TikTok videos dancing to 'You Belong with Me (Taylor's Version)' and acting out the lyrics of 'White Horse (Taylor's Version)'.
Taylor tweeted one of the videos with the caption: "You ok? NO cause I sent my two kids @Olivia_Rodrigo and @conangray my new version of You Belong With Me and THEY ARE SO CUTE IT PHYSICALLY HURTS ME."
April 2021 - Olivia says Deja Vu is inspired by Cruel Summer
This is where things start to get a little bit sticky but it doesn't manifest until later. In a Rolling Stone interview, Olivia revealed that the bridge in 'Deja Vu' was inspired by Taylor's 'Cruel Summer'. 'Deja Vu' was co-written by Olivia and Dan Nigro and, at that time, Olivia and Dan were the only two people credited on the song.
Olivia said: "I wanted the last bridge to go crazy. I love 'Cruel Summer' that's one of my favourite songs ever. I love the yelly vocals in it, the harmonised yells that she does. They're super electric and moving, so I wanted to do something like that."
Olivia Rodrigo and Dan Nigro Break Down Her New Single 'Deja Vu'
May 2021 - Olivia and Taylor finally meet in person
Olivia and Taylor both attended the 2021 BRIT Awards and they finally met in person. Olivia performed 'Drivers License' and Taylor took home the prestigious Global Icon Award. After the ceremony, Olivia and Taylor hung out and Olivia shared an adorable photo of the two of them on Instagram.
May 2021 - Olivia samples Taylor on 1 Step Forward, 3 Steps Back
On May 21, 2021, Olivia released her debut album Sour and fans were quick to notice that Taylor Swift and her close friend and collaborator Jack Antonoff were credited on Track 4, '1 Step Forward, 3 Steps Back'. Olivia later confirmed that she sampled Taylor's 'New Year's Day' on the song and that Taylor gave her personal permission to use the sample.
Discussing the sample on the Zach Sang Show, Olivia said: "I came up with the concept, and I sort of wrote a verse and a chorus. I was in the car on a road trip. When I got home, I decided to sing it over the chords of 'New Year's Day.' I think they're really beautiful chords. I was lucky enough to get that approved, and it's on the record now."
Olivia Rodrigo on Sampling Taylor Swift's "New Year's Day" on "1 step forward, 3 steps back"
July 2021 - Taylor is added to Olivia's Deja Vu writing credits
Following the release of Sour, multiple TikTok videos went viral in which people compared Olivia's songs to other songs and accused her of copying other artists. For example, 'Deja Vu' was compared to Taylor's 'Cruel Summer' and 'Good 4 U' was compared to Paramore's 'Misery Business'.
In July 2021, the writers of 'Cruel Summer' (Taylor, Jack Antonoff and St. Vincent) were suddenly all added to the credits of 'Deja Vu'. It's unclear whether this was agreed amicably or if Olivia was threatened with legal action. Despite rumours and theories online, Taylor never sued Olivia.
In August 2021, the writers of 'Misery Business', Hayley Williams and Josh Farro, were added to the credits of 'Misery Business'.
Olivia Rodrigo - deja vu (Official Video)
October 2021 - Olivia says artists she used to admire have treated her like mean girls
In a Rolling Stone artist-on-artist interview with Alanis Morissette, Olivia asked the singer: "How did you handle it when your album came out? Did you have any hard times dealing with criticism or the spotlight?."
In response, Alanis said: "All eyes on the fishbowl. There was a lot of bullying and a lot of jealousy and a lot of people whom I'd adored my whole life being mean girls." And, in response, Olivia said "Same!" It appeared as though Olivia was implying that she has also experienced "bullying", "jealousy" and "mean girl" behaviour from her idols.
Olivia didn't mention anyone by name but some fans believed she was addressing Taylor and Hayley Williams because of the writing credits situation. It's also possible she was referencing Courtney Love who claimed that Olivia stole her Sour Prom concert poster from Hole's album Live Through This art.
In a separate interview with Teen Vogue, Olivia dismissed plagiarism claims. She said: "I think it's disappointing to see people take things out of context and discredit any young woman's work."
Speaking to Time, Olivia added: "It was really frustrating to see people discredit and deny my creativity."
November 2021 - Taylor releases 'Nothing New'
In November 2021, Taylor released Red (Taylor's Version) and fans were quick to notice that the lyrics on her new Vault Track 'Nothing New' could apply to her relationship with Olivia. In the song, Taylor sings about how the music industry tends to discard female artists when they lose their novelty.
In the bridge, Taylor sings: "I know someday I'm gonna meet her, it's a fever dream / The kind of radiance you only have at 17 / She'll know the way and then she'll say she got the map from me / I'll say I'm happy for her, then I'll cry myself to sleep."
However, Taylor first wrote 'Nothing New' for the original version of Red long before she even met Olivia. In other words, it's unlikely that the song is actually about Olivia unless Taylor tweaked the lyrics.
Unlike Fearless (Taylor's Version) and all of Taylor's previous albums, Olivia did not acknowledge Red (Taylor's Version) on social media.
Nothing New (Taylor's Version) (From The Vault) (Lyric Video)
So have Taylor and Olivia fallen out? It's unclear. Since 2021, Olivia has seemingly stopped making references to Taylor on social media and in interviews. Taylor also hasn't interacted publicly with Olivia since then.
Nevertheless, neither star has commented on the current status of their friendship. We shall update you if/when they do.
Read more Olivia Rodrigo news stories here:
Leigh-Anne Picks Her Own Interview Questions | PopBuzz Meets