Francia Raisa denies claims Selena Gomez "forced" her to donate a kidney
2 August 2023, 15:27 | Updated: 2 August 2023, 15:32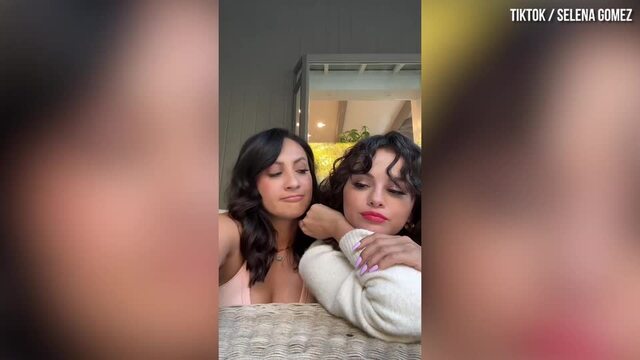 Selena Gomez and Francia Raisa do hilarious TikTok challenge
"No one forced me to do anything. It just came out of the genuine kindness of my heart."
Francia Raisa has opened up about donating her kidney to Selena Gomez and denied claims that she was "forced" to do it.
Selena Gomez and Francia Raisa fans will already know that the two stars go way back. After being close friends for years, Francia donated a kidney to Selena in 2017 following lupus complications. The transplant saved Selena's life. At the time, Selena wrote: "There aren't words to describe how I can possibly thank my beautiful friend Francia Raisa."
However, in recent years fans have speculated that Selena and Francia have fallen out. In 2022, Selena told Rolling Stone: "My only friend in the industry really is Taylor [Swift]." Francia reacted by unfollowing Selena on Instagram. People then began suggesting that Francia was "forced" to give her kidney to Selena.
Now, Francia has shut down claims that she was coerced into donating her kidney and denied having "beef" with Selena.
READ MORE: Selena Gomez shows kidney transplant scars in powerful Instagram photo
Yesterday (Aug 1), Francia appeared as a guest on Josh Peck's Good Guys podcast. Discussing her friendship with Selena, Francia said: "There's no beef."
Just last week, Selena wished Francia happy birthday on Instagram. She wrote: "Happiest of birthdays to this special human being. No matter where life takes us, I love you."
Francia also re-followed Selena on Instagram.
Nevertheless, both Francia and Selena are still subject to trolling over their relationship on social media. Responding to the hate, Francia said: "I can't read the comments. I don't do well with that because people are mean. People are so mean."
Francia then cleared up speculation that Selena forced Francia to donate a kidney to her. She reiterated: "I've said this before, I just felt it in my heart. I knew I was a match. I knew it was gonna happen. No one forced me to do anything."
Francia ended by saying: "It just came out of the genuine kindness of my heart."
No Beef, Just Salsa with Francia Raisa! GOOD GUYS PODCAST (8 - 1 - 23)
Francia also revealed that she got booked to play Ana in Grown-ish just weeks after the surgery took place.
She said: "I've been super blessed ever since. Two weeks after that surgery. My first audition was Grown-ish. And I tested on my 29th birthday. I almost took it as a sign from God like, 'Oh I'm gonna be fine. Everything's great.'"
So, there we have it! Selena and Francia are still friends and there's no beef to see here.
The Witcher Cast Interview Each Other | PopBuzz Meets