Taylor Swift tearfully sings 'Bigger Than The Whole Sky' in tribute to fans who died
20 November 2023, 11:52 | Updated: 20 November 2023, 15:04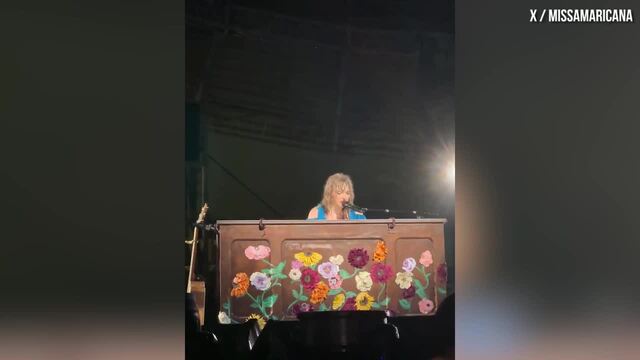 Taylor Swift performs Bigger than the Whole Sky on tour in Rio to honour late fan
Fans believe Taylor performed 'Bigger Than The Whole Sky' as an Eras Tour surprise song in tribute to three fans who sadly lost their lives this past week – Ana, Gabriel and Ally.
After a week that saw the tragic death of three Swifties, Taylor Swift took to the stage on her Eras Tour to perform her emotional ballad 'Bigger Than the Whole Sky'. Fans believe she chose that specific song to pay tribute to the Swifties who sadly passed away.
Taylor is currently in Rio de Janeiro where she is performing the first of her two Eras Tour weekends in Brazil, heading to São Paulo later this week for the second. The country is currently experiencing a heatwave which has made conditions both outside and inside the stadium incredibly difficult for fans, as well as Taylor herself.
Just before Taylor's Friday (Nov 17) show began, Ana Clara Benevides Machado, who was standing at the barrier in the stadium waiting for the show to begin, sadly passed away after fainting and going into cardiac arrest.
Another two Swifties, Gabriel Mongenot Santana Milhomem Santos and Ally Garner Anderson, also sadly died last week.
Fans are now sharing their emotional footage of Taylor's Surprise Song performance, and paying tribute to the Swifties who sadly lost their lives.
After postponing the second scheduled Eras Tour show in Rio, Taylor took to the stage on Sunday (Nov 19) to play for the huge crowds of fans inside the stadium. The show ended up being performed in the rain, which resulted in a slightly cooler temperature in the crowd and on stage.
When it came time for Taylor to perform her usual Surprise Songs, Swifties were hoping that she might perform the moving 'Bigger Than the Whole Sky' in honour of the Swifties who tragically passed away. And she did.
The Midnights track, in case you don't know, is heartbreaking song about grief, and losing someone way too soon. In the chorus, Taylor sings: "Goodbye, goodbye, goodbye / You were bigger than the whole sky / You were more than just a short time."
Fans around the stadium were moved to tears as she poured her heart and soul into performing the song on the piano. Replying to one comment, TikTok user and Swiftie @gustavo.gual said that "everyone was crying" as Taylor sang.
Sharing videos of Taylor's performance, fans have been paying their respects to the fans who passed away.
On Friday (Nov 17), 23-year-old fan Ana Clara Benevides Machado tragically passed away after fainting and going into cardiac arrest before Taylor's concert began. She had been queuing since 11am outside the stadium in the 35C heat, and had made it to the barrier inside the stadium before she collapsed.
Shortly after hearing about Ana's death, Taylor released a statement on Instagram: "I can't believe I'm writing these words but it is with a shattered heart that I say we lost a fan earlier tonight before my show. I can't even tell you how devastated I am by this. There's very little information I have other than the fact that she was so incredibly beautiful and far too young."
"I'm not going to be able to speak about this from stage because I feel overwhelmed by grief when I even try to talk about it," she continued. "I want to say now I feel this loss deeply and my broken heart goes out to her family and friends. This is the last thing I ever thought would happen when we decided to bring this tour to Brazil."
bigger than the whole sky was the most beautiful song she could've played tonight. ana, gabriel, & ally all passed away this week & it was such a perfect tribute. rest in peace angels 💗🕊️

— tess ₊˚. 🌲 ོ (@gracieslore) November 20, 2023
#WeLoveYouTaylor bigger than the whole sky felt so right tonight for so many reasons. Ana, Gabriel, Ally will always be remembered 🫶🏻

— Tanya🩵 Miami N1 (@AutumnAirTanya) November 20, 2023
In the early hours of Sunday morning (Nov 19), Gabriel Mongenot Santana Milhomem Santos, 25, also sadly died after he was reportedly killed in an attempted robbery before he even got to attend the show. Gabriel is said to have travelled to Rio for the concert.
On November 13th, Ally Garner Anderson, the Swiftie who received the '22' hat in Cincinnati, also sadly passed away. She had been living with cancer since 2018. She was 16 years old. Her mother Patty confirmed her passing to PEOPLE: "As you know Taylor Swift's favorite number is 13. Ally passed away on 11/13/23 at 13:40. The 13th day during the 13th hour."
Our thoughts are with the family and friends of Ana, Gabriel and Ally.
Read more Taylor Swift new here:
Rachel Zegler & Tom Blyth Try To Name Every Hunger Games Tribute | The Ballad of Songbirds & Snakes