Who is Taylor Swift's Now That We Don't Talk about? The Harry Styles lyric references explained
28 October 2023, 07:33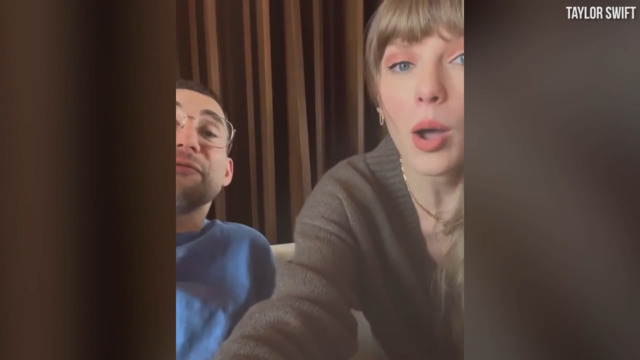 Taylor Swift reacts to Cruel Summer going Number 1
Is Taylor Swift's Now That We Don't Talk about Harry Styles? Here's all the lyric references that fan think point to her break up with Harry.
With the release of 1989 (Taylor's Version) and the five brand new vault tracks, Taylor Swift has left fans wondering who they could be about. The general consensus? Harry Styles seems to be the favourite right now, and her 'Now That We Don't Talk' lyrics seem to feed into the theory.
'Now That We Don't Talk' details the break down of a relationship, how Taylor feels now that the two can no longer be friends, and how she now knows nothing about the other person because they are no longer in contact following a break up.
READ MORE: Read Taylor Swift's 1989 (Taylor's Version) prologue in full here
At first glance, fans were quick to assume that the song – based on the title alone – could be about the break down of one of her friendships. Taylor fell out with Katy Perry prior to 1989, and she also appeared to lose touch with Dianna Agron around that time too. (Her alleged fall out with Karlie Kloss did not happen during the 1989 era, it happened long after.)
However, after listening to the song and the specific lyrical references, fans have now theorised that it could be inspired by her short relationship with Harry Styles.
Who did Taylor Swift write 'Now That We Don't Talk' about?
Is 'Now That We Don't Talk' about Harry Styles?
There's a couple of references within the lyrics that have left fans speculating that Taylor is singing about the aftermath of her relationship with Harry.
The first being the lyric that sees Taylor ask: "Did you get anxious though, on the way home? I guess I'll never ever know, now that we don't talk."
Towards the end of their relationship, Taylor accompanied Harry on a trip to the British Virgin Islands but reportedly left early and alone following an alleged argument that apparently resulted in them breaking up. He stayed, and left after her. (This moment is also referenced in 'Is It Over Now?', where Taylor sings: "Blue dress / On a boat.")
The next lyric that fans have latched on to is: "You grew your hair long".
Fans have linked this one to the iconic lyric about hair in 'Style', a song that is also widely believed to be about Harry. Shortly after their break up in 2013, Harry grew his hair out and continued to sport the look until he went solo in 2016.
Taylor then mentions that she might be "better off" now that the two no longer talk, because she no longer has to pretend to like things that he likes, singing: "I don't have to pretend I like acid rock / Or that I'd like to be on a mega yacht."
Harry has often taken inspiration from acid rock and psychedelic rock groups and artists in his solo music. And as for the yacht line? Harry does love a yacht moment.
READ MORE: Are Taylor Swift's Slut! lyrics about Harry Styles? The meaning explained
Taylor has not spoken about the specific inspirations behind the song, and it's unlikely that she will ever reveal who it's about. But, if 'Now That We Don't Talk' was inspired by Taylor's break-up with Harry, the good news is: Now they do actually talk.
Years on from their break up, Taylor and Harry appear to be on great terms, having greeted each other warmly at the Grammys back in 2021, and again in 2023. They're both at the top of their game, they're both absolutely killing it... Ya love to see it.
Taylor Swift - 'Now That We Don't Talk' lyrics
[Verse 1]
You went to a party
I heard from everybody
You part the crowd like the Red Sea
Don't even get me started
Did you get anxious though
On the way home?
I guess I'll never ever know
Now that we don't talk
[Verse 2]
You grew your hair long
You got new icons
And from the outside
It looks like you're tryin' lives on
I miss the old ways
You didn't have to change
But I guess I don't have a say
Now that we don't talk
[Chorus]
I call my mom, she said that it was for the best
Remind myself the morе I gave, you'd want me less
I cannot bе your friend, so I pay the price of what I lost
And what it cost, now that we don't talk
[Verse 3]
What do you tell your friends we
Shared dinners, long weekends with?
Truth is, I can't pretend it's
Platonic, it's just ended, so
[Chorus]
I call my mom, she said to get it off my chest (Off my chest)
Remind myself the way you faded 'til I left (Until I left)
I cannot be your friend, so I pay the price of what I lost (Of what I lost)
And what it cost, now that we don't talk
[Outro]
I don't have to pretend I like acid rock
Or that I'd like to be on a mega yacht
With important men who think important thoughts
Guess maybe I am better off now that we don't talk
And the only way back to my dignity
Was to turn into a shrouded mystery
Just like I had been when you were chasing me
Guess this is how it has to be now that we don't talk
Madison Beer Explains Every Song On 'Silence Between Songs' | Making The Album