Taylor Swift Eras Tour movie: How to get tickets, prices, show times and locations
26 September 2023, 13:38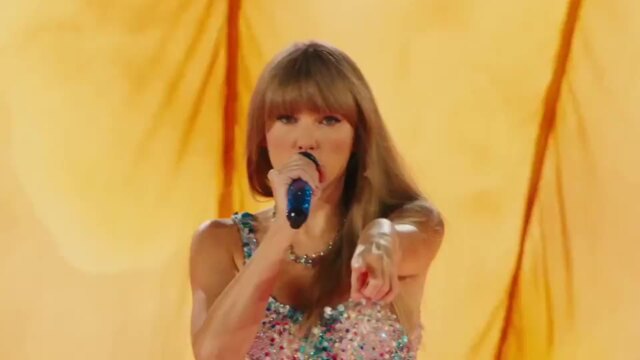 Taylor Swift announces The Eras Tour concert film with trailer
Taylor Swift is releasing her Eras Tour concert film in cinemas worldwide. Here's how to get tickets.
It's finally been confirmed: Taylor Swift's Eras Tour has been turned into a concert film, and it's set to be released in cinemas across worldwide in October 2023.
Directed by Sam Wrench, the Eras Tour concert film will give fans the chance to see Taylor up-close during the show, like you're right on stage with her, alongside incredible new camera angles that haven't yet been captured by livestreams from fans in the front rows and the nosebleeds.
The concert film, which is 2 hours and 45 minutes long, will be screened in participating cinemas across the world. Yep, after only announcing the North American release, Taylor has now confirmed that fans across the globe (in over 100 countries!) will be able to watch the film on the big screen!
Here's everything you need to know about tickets, prices and locations of where you can watch the Eras Tour on the big screen.
How to get tickets to watch Taylor Swift's Eras Tour movie in cinemas
How much are cinema tickets for Taylor Swift's Eras Tour movie?
Ticket prices for Taylor Swift's Eras Tour concert film are as follows:
Adults: $19.89 (plus tax)
Children (age 2-12): $13.13 (plus tax)
Seniors (age 60+): $13.13 (plus tax)
The prices listed above are for standard screenings. For Dolby Cinema and Imax showings, they may increase. Tickets are available to buy at AMC Theatres and Fandango now.
Taylor Swift Eras Tour movie cinema locations and timings:
Demand to see Taylor's Eras Tour on the big screen will be massive. To prepare for the huge amount of fans wanting to see the show, AMC have stated that the film will play at EVERY SINGLE ONE of its U.S. locations at least FOUR TIMES a day, four days a week.
In Europe, every single Odeon cinema will also be playing the film. (Vue, Everyman, Empire and various other cinema chains in the UK will also be screening the film.)
Taylor Swift's Eras Tour concert film will be shown on the following four days in AMC cinemas across the US:
Thursday
Friday
Saturday
Sunday
On top of that, Cinemark in the U.S., Cineplex in Canada and Cinepolis in Mexico (on sale Sept. 1) will also be showing the Eras Tour concert film. (Per Variety)
It's currently unclear how long it will stay in cinemas. We will update this article when that information becomes available.
Will Taylor Swift's Eras Tour movie be available online?
Not yet – it looks like the Eras Tour film will be a theatrical release, but that doesn't mean it won't come to streaming once Taylor has completed the tour in full.
The final Eras Tour date is November 23rd 2024. It's not confirmed, but it's possible that the full Eras Tour concert film may come to streaming by December 2024. We'll update this article as updates come in.
Will Taylor Swift's Eras Tour concert film be released across the rest of the world?
Yes! After much disappointment from international fans who initially thought they'd be unable to watch the Eras Tour on the big screen, Taylor has confirmed that she'll be releasing the movie worldwide.
The Eras Tour movie will open in more than 100 countries worldwide on Oct. 13th.
However, some countries will have to wait until November 3rd to see it in cinemas. Those countries include: Brazil, Bulgaria, Hong Kong, Hungary, India, Indonesia, Macau, Romania, Singapore, South Korea, Taiwan, Turkey and Vietnam.
Peach PRC Paints A Self-Portrait And Answers Questions About Her Life | Portrait Mode