The 1975's Matty Healy says people offended by his Ice Spice comments are "deluded"
30 May 2023, 15:48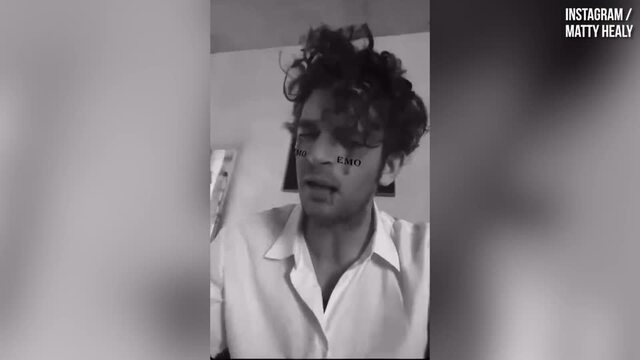 Matty Healy makes fun of Yungblud
"You're either lying that you are hurt, or you're a bit mental for being hurt"
The 1975's Matty Healy has hit back at the controversy surrounding his comments about the rapper Ice Spice.
In February, Matty Healy faced backlash after his appearance on The Adam Friedland Show podcast. In the episode, Matty said that he had sent DMs to Ice Spice. Matty and both of the hosts then began speculating about Ice Spice's race. Adam Friedland and Nick Mullen suggested that Ice Spice is Inuit or Chinese and did multiple problematic accents.
In the podcast, Matty can be heard laughing in response to Adam and Nick's comments. When Matty was asked, "So you slide into her DMs and ask 'What are you? A fucking Eskimo or something?'", Matty replied: "Yeah, that's what I was like." Ice Spice is actually from the Bronx and is of Dominican and Nigerian descent.
Now, in a new interview with The New Yorker published yesterday (May 29), Matty was asked if he was deliberately "baiting" his fans at the time.
"A little bit," he replied. "But it doesn't actually matter. Nobody is sitting there at night slumped at their computer, and their boyfriend comes over and goes, 'What's wrong, darling?' and they go, 'It's just this thing with Matty Healy.' That doesn't happen."
After the interviewer suggested that "maybe" it does happen, he continued: "If it does, you're either deluded or you are, sorry, a liar.
"You're either lying that you are hurt, or you're a bit mental for being hurt. It's just people going, 'Oh, there's a bad thing over there, let me get as close to it as possible so you can see how good I am.' And I kind of want them to do that, because they're demonstrating something so base level."
The comments are a little awkward as Taylor Swift - who Matty is currently dating - has just released a remix of her song 'Karma' with Ice Spice.
Taking to Instagram, the Taylor wrote: "I'm a massive fan of this brilliant artist and after getting to know her I can confirm: she is THE ONE to watch."
Taylor has since said that it was Ice Spice's team that originally reached out to her to see if a collaboration would be possible.
Taylor Swift ft. Ice Spice - Karma (Official Music Video)
Speaking during a concert in Auckland, New Zealand last month (Apr 21), Matty apologised for comments: "Sorry if I've offended you. Ice Spice, I'm sorry. It's not because I'm annoyed that me joking got misconstrued cause I don't want Ice Spice to think that I'm a dick. I love you Ice Spice. I'm so sorry. I don't want anything I get misconstrued to be mean."
Matty then specified: "I don't mind being a bit of a joker. It's ok for me to be like a trickster but I don't want to be perceived as mean-hearted cause honestly I love you guys and I love doing this. I'm sorry if I get it wrong. We all get it wrong. I just have to do it in public and then apologise to Ice Spice. My life's a bit weird."
Matty ended by saying: "I am genuinely sorry if I upset her cause I fucking love her."
Read more...
The Little Mermaid Cast Try To Name Every Disney Princess In 30 Seconds | PopBuzz Meets