Ryan Gosling improvised Ken's 'Sublime!' line in Barbie
2 August 2023, 17:20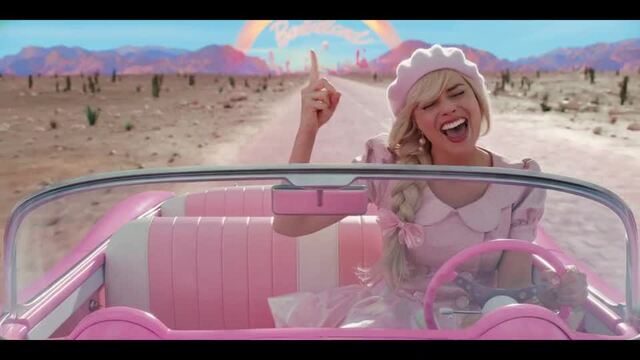 Watch the official Barbie trailer
Ken's funniest line from the Barbie movie was completely made up on the spot by Ryan Gosling.
It's been two weeks since Barbie was released in cinemas and I think we can all now safely say: It really is truly SUBLIME!
From Issa Rae's spectacular delivery of "The GodFATHER?" to Helen Mirren's surprise "Margot Robbie" fourth wall break (if you know, you know!), and from every single second of Gloria's monologue to that final line, Barbie is packed full of incredible one liners and memorable scenes.
Ryan Gosling as Ken is also a revelation – and it turns out that he improvised his funniest scene. Sublime? Yeah, it wasn't even in the script.
READ MORE: 14 of the most iconic Ryan Gosling quotes about playing Ken in Barbie
The moment in question happens when Barbie shows up at Ken's Mojo Dojo Casa House as part of the heist to take back Barbie Land from the Kendom that Ken cooked up after returning from the Real World. She tells him that she's ready to become his 'long term, long distance, low commitment, casual girlfriend'.
Of course, that's something that Ken's been wanting forever. In response to Barbie's ask, Ken disappears inside his Mojo Dojo Casa House briefly to collect himself. As he hides behind one of the horse flag-adorned walls, he randomly shouts "SUBLIME!" before telling Barbie he'll think about it.
The moment is so unexpected and so funny, and easily one of Ryan Gosling's standout moments as Ken. Now it turns out that that specific line was improvised by Ryan on the spot.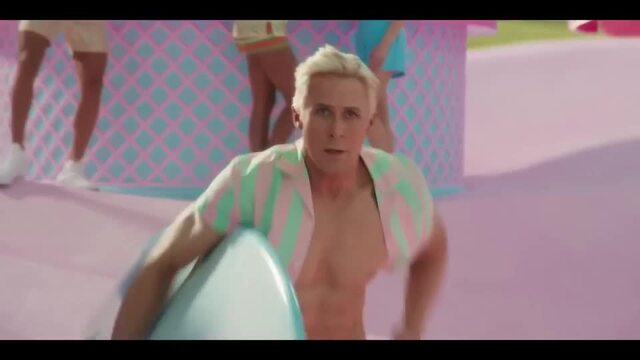 Ryan Gosling is 'just Ken' in new musical Barbie trailer
In an interview with the Associated Press, Margot Robbie revealed that Ryan made up the "SUBLIME!" line on the spot.
"There were a lot of things that Ryan did that were like spur of the moment, like he just did that on that take," she said. "Like putting on the sunglasses twice – I didn't know he was going to do that. Or like, going round the corner and yelling 'Sublime!'"
Margot went on to explain that the scene where Ken was throwing Barbie's clothes off the Dream House balcony also included some improv from Ryan.
"There was this one scene where he was throwing all of Barbie's clothes off the balcony and having a full meltdown. And they were such tricky Barbie names to say [...] Honestly, we were crying. I'm not exaggerating."
"To credit to Ryan, he made people cry with laughter multiple, multiple times in this film."
Sublime! (Literally cannot stop saying it.)
Read more about Barbie here:
The Witcher Cast Interview Each Other | PopBuzz Meets