Why do Belly and Conrad break up? How the Summer I Turned Pretty season 2 differs to the books
20 July 2023, 15:24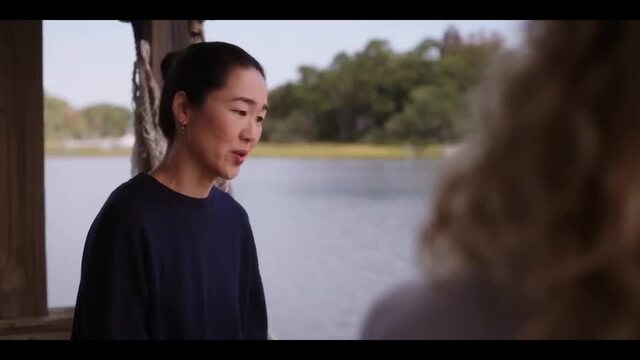 Watch new The Summer I Turned Pretty season 2 trailer
In The Summer I Turned Pretty season 2, episode 1, we learn that Belly and Conrad are no longer together but why?
It's true. Conrad and Belly do break up in The Summer I Turned Pretty season 2 but why do the beloved teen couple split?
Whether you're Team Conrad (Christopher Briney) or Team Jeremiah (Gavin Casalegno), it's impossible to deny that Belly (Lola Tung) has chemistry with both brothers. Nevertheless, at the end of season 1, Belly decides to put her feelings for Jeremiah aside and be with Conrad. For a brief moment, it seems as though the love triangle drama is finally over.
However, in the first episode of The Summer I Turned Pretty season 2, we find out Belly and Conrad are no longer dating.
READ MORE: The Summer I Turned Pretty fans slam viewers bullying Skye actor Elsie Fisher online
Yes. The Summer I Turned Pretty season 2 picks up almost a year after the first season ends and it's only in flashbacks that we learn why Belly and Conrad ended things. Meanwhile, Belly and Jeremiah seem to rekindle their feelings for each other.
As soon as Belly and Conrad start seeing each other officially, it puts a rift between them and Jeremiah. When Susannah's health starts deteriorating, Belly decides to end things with Conrad so that he and Jeremiah can focus on taking care of Susannah without any animosity between them.
However, as time goes by, Belly and Conrad begin phoning each other as friends and it isn't long before things become romantic again. During the winter break, they even visit Cousins together and Belly loses her virginity to Conrad.
It isn't until a flashback to prom in episode 3 that we see Conrad and Belly officially breakup. Susannah's health continues to take a turn for the worse and Conrad grows distant from Belly. Belly makes clear that she's there for Conrad and he can talk to her but he struggles to open up and ultimately keeps her in the dark.
At prom, Conrad is completely disengaged and asks to leave. Belly follows him into the rain but Conrad decides to break up with Belly. He thinks that she will be happier without him. Belly then gives Conrad back the infinity necklace he bought her and bursts into tears as her brother Steven consoles her.
How do Belly and Conrad breakup in the books?
Unlike the show, Belly breaks up with Conrad in the second novel, It's Not Summer Without You. Thinking that Conrad only went to prom with her because Susannah forced him to, she decides that they would be better off apart.
Do Belly and Conrad get back together?
Whether or not Belly and Conrad get back together in season 2 of the TV series is yet to be seen. With Jeremiah also still in love with Belly, anything is possible. It all depends on how true the show stays to the books.
If you don't mind spoilers, you can check out what happens in the books and who Belly ends up with here.
Read more about The Summer I Turned Pretty here:
The Witcher Cast Interview Each Other | PopBuzz Meets