Colleen Ballinger loses 190,000 YouTube subscribers amid inappropriate behaviour allegations
20 July 2023, 16:20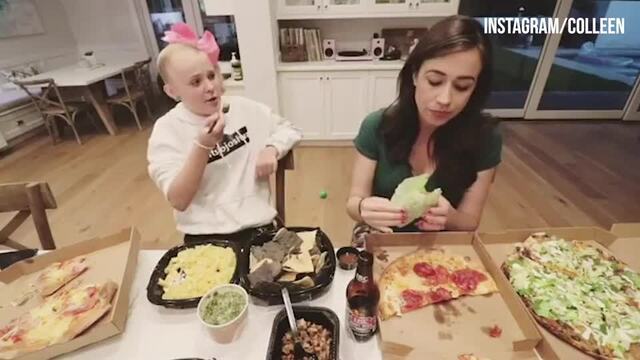 Colleen Ballinger and JoJo Siwa open up about receiving hate from trolls
Two of Colleen's YouTube channels have lost a considerable amount of subscribers.
If you're wondering how many subscribers Colleen Ballinger has lost over the course of the past month, amid allegations of inappropriate behaviour and the backlash to her widely-mocked ukulele video, here's your answer...
It's been three weeks since Colleen posted her 'Toxic Gossip Train' video and a lot has happened since then.
Trisha Paytas has now confirmed that the Oversharing podcast they started together has been cancelled after three episodes. Trisha confirmed the news after screenshots allegedly showing Colleen making fun of Trisha's nude photos in group chats were posted on Twitter.
Colleen has also now cancelled the remainder of her Miranda Sings live tour and her YouTube subscribers have also taken a hit. Both of Colleen's personal YouTube channels have lost huge amounts of subscribers.
READ MORE: Colleen Ballinger's reps deny uploading Toxic Gossip Train song to Apple Music
In the last 30 days, Colleen's Vlog channel (@ColleenVlogs – where she published the ukulele video) has lost over 100,000 subscribers, according to Social Blade.
Her total views for that channel, however, has increased by 14.6 million due to people flocking to watch the 'Toxic Gossip Train' video. That video has now been viewed over 12 million times.
On top of that, Colleen's main channel (@psychosoprano) has also lost 90,000 subscribers over a 30 day period, according to Social Blade's stats.
The main Miranda Sings account, however, does not appear to have lost a considerable amount of followers at all.
On top of the initial backlash and contributing to her losing a substantial amount of subscribers, Colleen's 'Toxic Gossip Train' song also recently caused a huge uproar on social media – although, her legal team have issued a statement to clarify that it had absolutely nothing to do with her.
On July 11th, Ethan Klein tweeted that his H3 Podcast episode analysing Colleen's video had been hit with a copyright claim from CD Baby CO "on behalf of Colleen Ballinger". The song from the video them appeared on Apple Music and iTunes.
Colleen's reps later issued a statement to BuzzFeed, stating that she was not the one behind it.
"Ms. Ballinger did not upload the song or video to Apple Music or to any other streaming platform for sale or for any other purpose. We don't know how it got published on those platforms," the statement said. "It was done without Ms. Ballinger's knowledge or authorization, and we have taken measures to have it removed. Likewise, Ms. Ballinger has not issued any copyright infringement claims on videos featuring the song, nor has she monetized the video."
Read more about Colleen Ballinger here:
The Witcher Cast Interview Each Other | PopBuzz Meets