Olivia Rodrigo was told to remove "fame-f---er" from her Vampire lyrics
18 July 2023, 11:46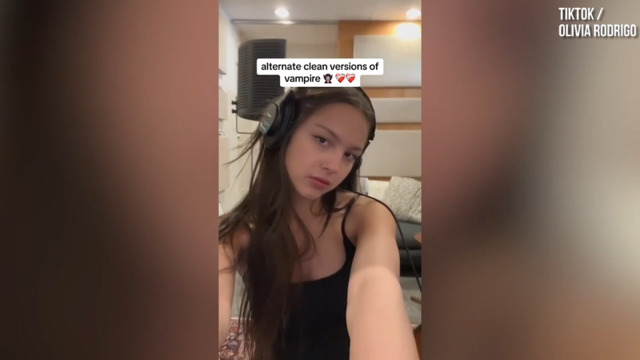 Olivia Rodrigo reveals alternate "fame-fucker" lyrics she tried for Vampire
In 'Vampire', Olivia Rodrigo calls out an older ex of hers for being a "fame-fucker".
Olivia Rodrigo has revealed that she was advised not to include the term "fame-fucker" in the chorus of her 'Vampire' lyrics.
Last month (Jun 30), Olivia Rodrigo returned to music with 'Vampire'. Co-written with Dan Nigro, the song is a kiss-off aimed at an older ex. Fans think the lyrics reference Zack Bia who Olivia reportedly dated in 2022.
In the chorus, Olivia calls her ex a "fame-fucker". Zack has famously dated many famous women including Madison Beer, Noah Cyrus and Madelyn Cline.
People are obsessed with the "fame-fucker" line but Olivia has now explained that she was told to keep it out of the song.
READ MORE: Madison Beer appears to confirm Olivia Rodrigo's Vampire is about Zack Bia
Discussing the concern over the "fame-fucker" lyric on The Julia Show, Olivia said: "It was actually a debate whether or not 'fame fucker' should be in the song. Some people said, 'It kind of isolates you from people, you can't really say things like that in song, it's not relatable' -- yada, yada, yada, which I totally get and saw where they were coming from..."
She continued: "I think the song isn't about fame fucking, I think it's more about someone being manipulative and sucking you dry, using you for all your worth. I think that's a universal theme, and I also think fame is more easily accessible now than it has ever been. It's not just people in LA and Hollywood that have to deal with that."
In a recent TikTok video, Olivia also showed fans the clean alternatives that she tried out before settling on "dream crusher" for the radio edit. These "fame-fucker" edits included: "fame-lover", "fame-hunter", "treehugger", "whale blubber", "garlic butter" and last but not least "Mark Zucker".
I think we can all agree that "fame-fucker" needed to be in the song!
Read more Olivia Rodrigo news stories here:
The Witcher Cast Interview Each Other | PopBuzz Meets