Olivia Rodrigo responds to claims she wrote her Vampire lyrics about Taylor Swift
4 September 2023, 14:13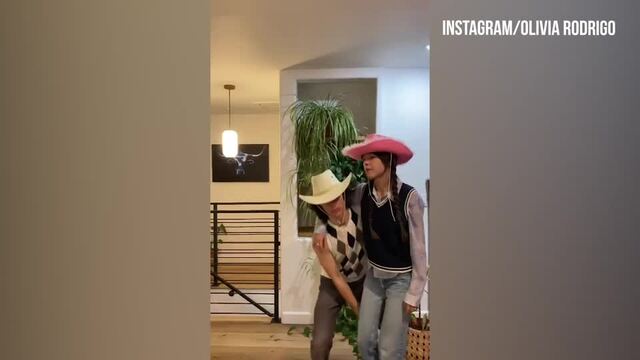 Olivia Rodrigo and Conan Gray reenact Taylor Swift's songs
A theory that Olivia Rodrigo's 'Vampire' lyrics are about Taylor Swift recently went viral online.
Olivia Rodrigo has addressed claims that she wrote her 'Vampire' lyrics about Taylor Swift following a viral theory on TikTok.
When Olivia Rodrigo released 'Vampire' in July, many people assumed that she wrote it about Zack Bia. Many of the single's lyrics appear to apply to a relationship with an older ex. Olivia reportedly dated Zack for six months in 2022 when Olivia was just 19 years old and Zack was 26. In the song, Olivia sings: 'Went for me and not her 'cause girls your age know better'.
READ MORE: Madison Beer appears to confirm Olivia Rodrigo's Vampire is about Zack Bia
However, there was also a pretty wild and farfetched theory on TikTok that Olivia wrote the song about Taylor Swift. People thought that Olivia wrote the lyric: 'I used to think I was smart / But you made me look so naive', about her alleged fallout with Taylor. Now, Olivia has set the record straight and explained why she doesn't discuss who her songs are about.
Are Olivia Rodrigo's Vampire lyrics about Taylor Swift?
Addressing the theory in a new Guardian interview, Olivia said: "How do I answer this?" She then said: "I mean, I never want to say who any of my songs are about. I've never done that before in my career and probably won't. I think it's better to not pigeonhole a song to being about this one thing." She added: "I was very surprised when people thought that."
Why do people think Olivia and Taylor aren't on good terms anymore? Fans of Olivia will already know that she was a day-one Swiftie and used to post about her music on social media all the time. Olivia even once stated on Instagram: "Taylor Swift is the reason I write songs". The two stars also regularly interacted and praised each other online.
In 2021, Olivia told Rolling Stone that the bridge in her song 'Deja Vu' was inspired by Taylor's 'Cruel Summer'. However, following the release of her debut album Sour, multiple TikTok videos accusing Olivia of plagiarising Taylor with 'Deja Vu' went viral. Taylor was then retroactively added to the credits of 'Deja Vu'.
It's unclear whether this was agreed amicably or if Olivia was threatened with legal action. Despite rumours and theories online, Taylor never sued Olivia.
READ MORE: Are Taylor Swift and Olivia Rodrigo still friends? A full timeline of their friendship
Since then, Olivia and Taylor have stopped interacting on social media and they haven't directly mentioned each other in any interviews. The first time Olivia discussed Taylor since 2021 was in a New York Times profile last month. When asked if she will be going to Taylor's Eras Tour, Olivia told The New York Times: "I haven't yet. I'm going to Europe this week."
Whether or not there is any truth to the Olivia and Taylor feud rumours though, it seems massively unlikely that 'Vampire' is about Taylor. As we've already mentioned, the lyrics allude to a romantic relationship NOT a friendship.
Read more Olivia Rodrigo news stories here:
Peach PRC Paints A Self-Portrait And Answers Questions About Her Life | Portrait Mode