Taylor Swift's Eras Tour movie will be 30 minutes shorter than the actual concert
26 September 2023, 13:39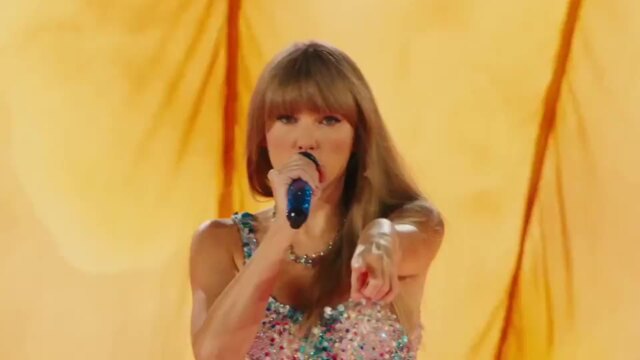 Taylor Swift announces The Eras Tour concert film with trailer
Taylor Swift's Eras Tour concert film runtime is 2 hours and 45 minutes long – 30 minutes shorter than her actual live show.
On October 13th, Taylor Swift's Eras Tour movie will arrive in cinemas worldwide. After a whirlwind, record-breaking first leg, fans will now get the chance to witness the whole thing, from start to finish, on the big screen.
The highly anticipated Eras Tour movie is set to be shown in AMC Theatres, with fans encouraged to dress up in their finest Swiftie outfits and trade friendship bracelets just like they do at the actual concert.
But how long will the concert film actually be? Each one of Taylor's Eras Tour shows is over three hours long, consisting of 45 songs, countless costume changes, speeches and inside jokes. It's a spectacle that will likely bring about as much joy in the cinema as it does in the actual stadium.
READ MORE: Is Taylor Swift releasing an Eras Tour documentary? Here's what we know so far
The runtime of Taylor Swift's Eras Tour movie has now been revealed, and it turns out that it's quite a bit shorter than the actual show.
How long is Taylor Swift's Eras Tour movie?
What is the run-time for Taylor Swift's Eras Tour concert film?
While Taylor's Eras Tour live show clocks in at an average 3 hours and 15 minutes, the concert film will be significantly shorter. For reference, 3 hours and 15 minutes (around 195 minutes) is longer than Avatar: The Way of Water. While that time will no doubt fly when you're watching Taylor dominate the stage, it's still a very long time.
It's now been confirmed by Taylor's publicist Tree Paine (via Billboard) that the concert film will run for 2 hours and 45 minutes. That's just around 30 minutes shorter than the actual live concert.
So, what's been cut from the Eras Tour movie? And why is it 30 minutes shorter than the show?
It's currently unclear exactly what's been shaved off the show but it has been confirmed that no songs have been cut.
The setlist for the movie contains the full 45 song setlist that Taylor performed on the nights that it was filmed.
If we were to speculate, we imagine that certain moments within the show will have just been shortened in order to maintain the pace in the edit. Gaps where Taylor is doing a costume change, or moments between transitions where there's a short pause will have been tightened.
But we won't know for sure what's been removed until we actually get to see it on the big screen. So sit tight, wait for October 13th to roll around and we'll have our answer then.
Peach PRC Paints A Self-Portrait And Answers Questions About Her Life | Portrait Mode