Dominic Fike reveals how Hunter Schafer split will affect Euphoria season 3
7 July 2023, 17:49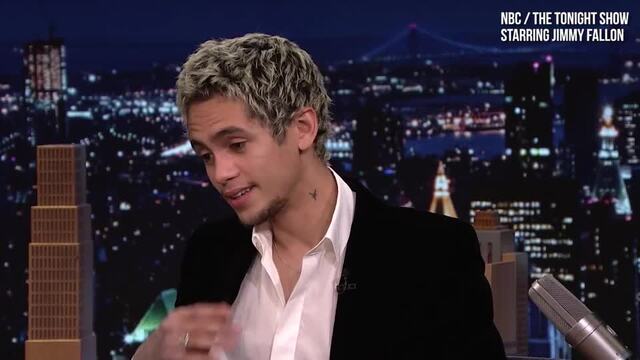 Dominic Fike responds to Elliot being Nate's brother theory
Dominic Fike and Hunter Schafer first began dating while filming Euphoria season 2 together.
Dominic Fike has revealed that he has broken up with Hunter Schafer and said that he wants to stop dating other celebrities.
Last year, Dominic Fike and Hunter Schafer surprised Euphoria fans after revealing that their onscreen relationship had led to them dating in real life. Rumours that they were together first surfaced after Hunter was spotted at one of Dominic's shows. The couple were then photographed holding hands and later went public with a photo of them kissing on Instagram.
Now, Dominic has opened up about ending things with Hunter and whether or not their split will affect filming Euphoria season 3. In season 2, Dominic and Hunter's characters, Elliot and Jules, have a romantic relationship with each other.
Why did Dominic Fike and Hunter Schafer breakup?
In a new interview with Zane Lowe for Apple Music, Dominic confirmed that he is single right now. He let slip: "I'm just done being in relationships and I've always been in these public relationships." Berating himself, he added: "Jesus fucking christ. Give it a break. It's not that hard to not date another fucking famous person."
As for why he wants to avoid dating famous people in future, Dominic said: "Every time I go through a breakup now, I gotta see somebody on a damn billboard."
Zane also asked Dominic how he feels about filming the next season of Euphoria. Dominic replied: "It's gonna be sick. I have a better dynamic with everybody." Referencing his split, he added: "Well, almost everybody."
Dominic then denied that things will be "weird on set". He said: "I think it'll be fine. We're all adults kind of. I'm trying."
Dominic Fike: 'Sunburn', Family, euphoria & Fame | Apple Music
Explaining why it's so easy to fall in love with someone you're acting with, Dominic said: "It's a real thing dude. You're in this fucking, very sped-up form of intimacy. You're just doing this very silly thing and you're forced to be your silliest and most vulnerable in front of somebody and obviously that accelerates any sort of intimacy that there might already be."
He ended by saying: "Relationships/flings are put on a fast track. Sometimes whenever that slows down or the show's not happening, you're like, 'What the fuck do we talk about?'"
Read more Dominic Fike news here:
The Witcher Cast Interview Each Other | PopBuzz Meets