Angus Cloud's "extraordinary" Euphoria audition tape shared by his mother
10 August 2023, 13:01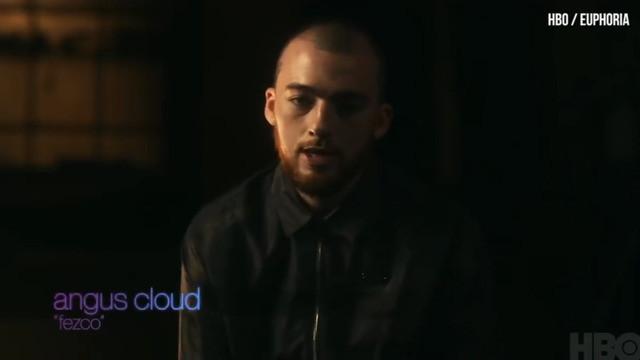 Angus Cloud reveals why Fez sacrifices himself for Ashtray in Euphoria
Angus Cloud was asked to read for Fez in Euphoria after casting directors saw this video.
Angus Cloud's mother, Lisa Cloud, has posted his Euphoria audition tape on social media following news of his tragic death.
Last week (Jul 31), TMZ reported that Euphoria star Angus Cloud had passed away. He was just 25 years old. In a statement, Angus' family said: "We hope the world remembers him for his humor, laughter and love for everyone. We ask for privacy at this time as we are still processing this devastating loss."
In the days since Angus' passing, Lisa Cloud has taken to Facebook to ask people to stop speculating about the nature of her son's death. She wrote: "Social media posts have suggested his death was intentional. I want you to know that is not the case. He did not intend to take his life."
Now, Lisa has taken to Facebook once again to share the video that helped Angus land the role of Fez in Euphoria.
READ MORE: Angus Cloud said he was really excited to start work on Euphoria season 3 before his death
In a new post on Tuesday (Aug 8), Lisa shared a link to Angus' Euphoria audition video and wrote: "This was just sent to me by Jennifer Venditti who scouted Angus in Brooklyn. It's his first tape. After this was seen by the creators of Euphoria, he was asked to read for Fezco. It really captures my son's extraordinary spirit."
In the six minute video, Angus is quizzed on everything from his worldview to his thoughts on life and love.
Discussing his advice for friendship, Angus said that you've got to accept your friend for who they are. He said: "A lot of my friends…you just gotta know how people act so you just can't get mad at them for that. You got friends who might act one way, and you don't like that shit, but you just gotta accept that."
When asked about love, Angus said: "I've experienced love…and now I try to shut off my feelings to other people because I don't wanna, like, get caught in my feelings because it's so much to carry, like, but it's like you've gotta take the good with the bad."
He added: "Even though I'm trying to remain distant and cut off my feelings, like, you can't help love. If that shit comes, you're not going to be able to say no…you can't help that…it's just a, shit, instinct…to connect."
This was just sent to me by Jennifer Venditti who scouted Angus in Brooklyn. It's his first tape. After this was seen by...

Posted by Lisa Cloud on Tuesday, August 8, 2023
Speaking to Simon Rex on the A24 Podcast in 2022, Angus actually referenced the video that Lisa shared.
Explaining how he was cast as Fez, he said: "I was just walking down the street with my homies and this woman, Eléonore Hendricks, I believe is her name, she came up to me. She said, 'Can I talk to you?' I was like, 'You got to walk with me.'"
Angus continued: "So she spit her little pitch and I ended up going down to her studio, her Jennifer Venditti's JV8 Casting Studio, and they asked me some questions. They filmed my answers, just random questions about my life and shit."
He then ended by saying: "And then they had me do a couple auditions and then auditioned in front of some of the producers or whatever, and then flew to LA for the pilot, man."
Read more about Angus Cloud here:
NCT DREAM vs. 'The Most Impossible NCT DREAM Quiz' | PopBuzz Meets