Angus Cloud said he was really excited to start work on Euphoria season 3 before his death
2 August 2023, 17:25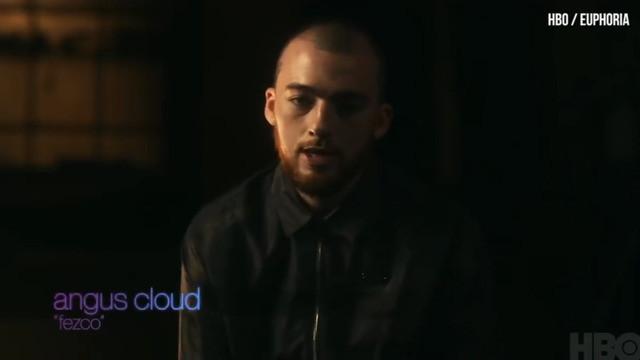 Angus Cloud reveals why Fez sacrifices himself for Ashtray in Euphoria
"I can't wait to get back to work with everyone. I feel like it's been way too long. I just can't wait to see everyone and working on set again."
Angus Cloud opened up about his excitement and hopes for Euphoria season 3 before he tragically passed away this week.
On Monday (Jul 31), TMZ confirmed that beloved actor Angus Cloud had died. He was 25 years old. In a statement, Angus' family said: "It is with the heaviest heart that we had to say goodbye to an incredible human today. As an artist, a friend, a brother and a son, Angus was special to all of us in so many ways." They also asked for "privacy" following the loss.
Before his death, Angus was due to start filming Euphoria season 3 and his comments about the show are heartbreaking.
READ MORE: Angus Cloud's final three films will be released posthumously
Euphoria season 3 was originally due to start filming in February 2023 but Vogue later reported that it had been pushed back to later this year. Speaking to E! News about season 3 in October 2022, Angus stated: "I can't wait to get back to work with everyone. I feel like it's been way too long. I just can't wait to see everyone and working on set again."
As for what would happen to Fez, Angus teased that creator Sam Levinson would have a good plan. He said: "Definitely not sure what to expect for Fezco, but knowing Sam, it will be good."
Elsewhere, Maude Apatow told Entertainment Weekly that she was hoping season 3 would explore Fez and Lexi's romance further. She said: "I love working with Angus. I think Angus is such a great actor, and we just have so much fun working together. So for selfish reasons, I hope we get to do more scenes together because it's fun."
She ended by saying: "He's just a great partner. He's so present and talented, and yeah, I just love working with him, so I totally would love to keep working with him."
In January 2022, Angus also tweeted: "We need more Fexi content, give the fans what they want @euphoriaHBO".
READ MORE: Angus Cloud's Euphoria co-stars lead tributes following his death
Reacting to Angus' death today (Aug 2), Maude took to Instagram to write: "Angus was the funniest person ever. I would get so excited to see on the schedule that we would be working together because I knew we'd have the best day, laughing so hard. He was the sweetest and made everyone around him so happy. He was just the best."
She added: "Words can't really capture how magical of a person he was. My heart is broken. Angus, getting to know and work with you was one of the greatest joys and blessings of my life. I will love you forever."
It's currently unclear how Fez's absence will be addressed in Euphoria season 3 but we have no doubt that the cast and crew will find a way to pay tribute to Angus in the show.
Our thoughts are with Angus' family, friends and co-stars at this time.
If you, or someone you know, is struggling with their mental health, the following organisations may be able to help:
Read more about Angus Cloud here:
The Witcher Cast Interview Each Other | PopBuzz Meets