Jacob Elordi says he didn't want to be in The Kissing Booth movies
13 November 2023, 17:23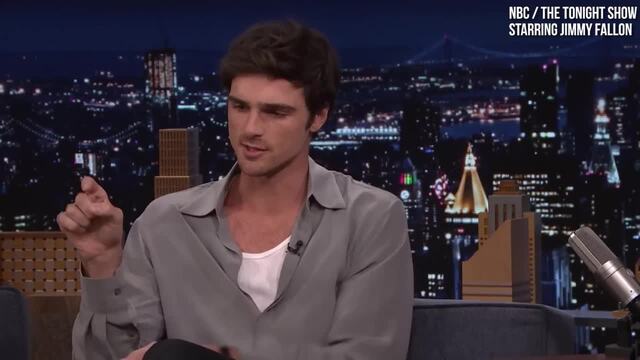 Jacob Elordi only found out who Elvis was through Lilo & Stitch
"I didn't want to make those movies before I made those movies."
Jacob Elordi is having a moment. With critics lapping up his performance as Elvis Presley in Priscilla, and fans excitedly waiting to see him in Saltburn, it seems like the Australian actor is enjoying his latest successes.
In a new profile with GQ, Jacob opened up about his recent roles, what's next for him and also reflected on the earlier roles that put him on the map – namely, Netflix's The Kissing Booth.
The Kissing Booth movies turned Jacob Elordi into a star overnight. Thanks to the huge success of the YA-romance franchise, the actor was launched into the spotlight, earning millions of new young fans who would later follow him to Euphoria.
But looking back at those films, Jacob doesn't have positive thoughts. In fact, he's just revealed that he never wanted to do them in the first place.
READ MORE: Jacob Elordi thanks Joey King, crew and fans in emotional Kissing Booth 3 goodbye post
"I didn't want to make those movies before I made those movies," Jacob told the publication, who noted that it situation made him 'miserable'. "Those movies are ridiculous. They're not universal. They're an escape."
When the idea came up that Jacob's decision to take the role played into the common "one for them, one for me" Hollywood trope, Jacob continued: "That one's a trap as well. Because it can become 15 for them, none for you. You have no original ideas and you're dead inside. So it's a fine dance. My 'one for them,' I've done it."
Jacob later addressed the comments from people on social media who suggested he was "pretentious", presumably after he said that he felt he hadn't made a "proper movie" yet back in 2022.
"How is caring about your output pretentious?" Jacob added. "But not caring, and knowingly feeding people shit, knowing that you're making money off of people's time, which is literally the most valuable thing that they have. How is that the cool thing?"
It's not the first time Jacob has expressed his honest feelings about The Kissing Booth movies and his experience filming them. He also previously opened up about wanting to quit acting after the first film was released due to the instant levels of fame he was confronted with.
Back in 2022, he also revealed he only had $800 to his name after filming The Kissing Booth in 2017. He was living in his car when he filmed the Euphoria pilot.
At the time, The Kissing Booth become one of Netflix's biggest hits, but the critics did not love it. Despite Jacob's recent comments, his co-star Joey King has been defending the films since they dropped on the platform.
"I couldn't be prouder of those movies," she said to The Independent in 2022. "I loved them so much and playing that character made me happy. I'll never regret those movies, and I love them so much no matter what anyone says."
Read more about Jacob Elordi here:
Madison Beer Explains Every Song On 'Silence Between Songs' | Making The Album