JoJo Siwa speaks out in defence of Colleen Ballinger following allegations
13 September 2023, 15:00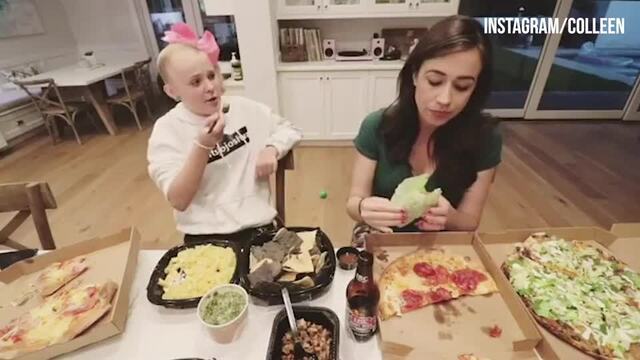 Colleen Ballinger and JoJo Siwa open up about receiving hate from trolls
"The internet can take a lie and run so far with it, so far it's to the point where you just can't do anything about it."
JoJo Siwa has spoken out for the first time about the Colleen Ballinger accusations in a new podcast interview with Howie Mandel.
Earlier this year, YouTuber and comedian Colleen faced a series of allegations regarding inappropriate behaviour with fans, some of whom where minors at the time. She was also slammed by Trisha Paytas after it was alleged that she had made fun of Trisha's nude OnlyFans content despite being friends with her.
Amid the conversations about Colleen's inappropriate past behaviour, JoJo's name was mentioned when people resurfaced old videos of Colleen's Miranda Sings character acting "inappropriately" with JoJo when she was just 13 years old.
Now, JoJo has addressed her relationship with Colleen, as well as how she feels about those videos – and her comments have divided opinion on social media.
READ MORE: Colleen Ballinger's reps deny uploading Toxic Gossip Train song to Apple Music
Speaking on the Howie Mandel Does Stuff podcast, JoJo revealed that she's been friends with Colleen since she was 12, and is still friends with Colleen to this day.
"This is the first time I've spoken about this, so I just want to make sure I say my exact piece that I want to say," JoJo said before sharing her thoughts about the whole thing. "The internet can take a lie and run so far with it, so far it's to the point where you just can't do anything about it."
She went on to praise the "incredible work" that Colleen has "done for the internet", specifically shouting out the creation of Miranda Sings.
She continued: "I think that it's very hard to be a character where people are also looking at you as you're a real human behind that character. And I think being a comedian is very hard because you were able to do things years ago that were okay. And now that we've grown and we've matured, we've realised that they're not okay."
Howie then asks JoJo what it was like to be Colleen's friend after reading the allegations for the first time, and if she thinks they're "all a lie".
JoJo replied: "There have been a lot of people on the internet who have gotten hit with this cancelation, and a lot of them I know. Some of them I don't know. And I look at it, and I see that this is a sensitive subject. Somebody who is affected by any sort of anything having to do with adults. And I mean, for real grooming, it's a very sensitive thing."
"The difference with Colleen and I...I became her friend," she continued. "She became my friend, and she became somebody that I looked up to. She became somebody I idolized [...] Throughout our friendship, we've probably filmed 100 videos together, and she's cool. You know?"
"I think the problem is the internet was able to capitalise off of her cancelation, and they still are, and they still are continuing to, and it's not okay because a lot of it is based off of lies," she added.
JoJo Siwa Opens Up About Colleen Ballinger for the First Time | Howie Mandel Does Stuff #138
People have now expressed their disappointment in JoJo's comments, calling out the way she appears to dismiss those that have come forward as "liars".
Adam McIntyre, who has shared alleged screenshots of inappropriate group chat messages with Colleen, tweeted: "jojo siwa…who colleen ballinger befriended when she was a minor, is saying colleen befriending kids is all based on lies. [sic]"
On the flip side, others have also defended what JoJo said. JoJo has not yet responded to the backlash from her comments.
Read more about Colleen Ballinger here:
Olivia Rodrigo vs. 'The Most Impossible Olivia Rodrigo Quiz' | PopBuzz Meets