Taylor Swift fan wears disguise after calling in sick to work to go to The Eras Tour
3 July 2023, 15:21 | Updated: 4 July 2023, 10:34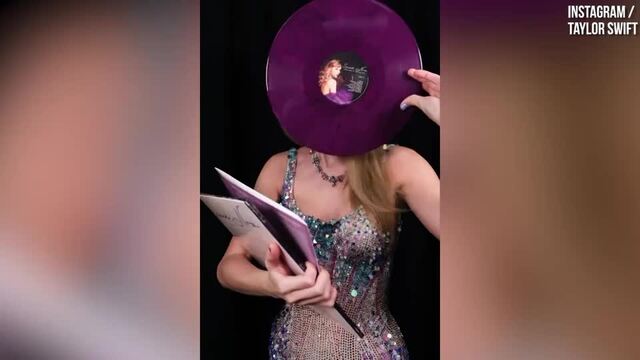 Taylor Swift teases Mine (Taylor's Version)
A local news station interviewed the Taylor Swift fan about the tour while they were in disguise.
Another day, another iconic Swiftie moment. A fan just went to Taylor Swift's Eras Tour in disguise so that they wouldn't get caught for skipping work, and the video of them being interviewed by a local news station is too hilarious for words.
There's no denying that The Eras Tour is one of the most in-demand concerts in the world right now. When tickets originally went on sale for the US leg, Ticketmaster crashed and all the tickets sold in the presale. From the setlist to the incredible staging, it's clear that Taylor Swift is putting on an unmissable show and fans are going to all lengths to see it.
Over the weekend (Jun 30), Taylor took The Eras Tour to Cincinnati, Ohio and Swifties travelled all across the the country to see her. In fact, one fan came from Louisville, Kentucky and called in sick to work so they wouldn't miss the show.
READ MORE: Taylor Swift urges fans not to bully John Mayer when Speak Now (Taylor's Version) is released
On Friday, WLKY News Louisville stopped by Paycor Stadium ahead of Taylor's concert to interview fans and they spoke to the Swiftie from Louisville, Kentucky. While most Swifties wore their best dress (fearless) to the show, this fan made sure to stay anonymous. Just like in Taylor's 'Anti-Hero' video, they wore a blanket with sunglasses to avoid being recognised.
When asked how much they love Taylor, the Swiftie responded: "I almost named my daughter's middle name Taylor." They then revealed that they had actually already seen the show in Nashville, Tennessee. They said: "I'm taking an 11-year-old girl. It's her first time. I went to the show in Nashville. It's more for her."
As the video is ending, the fan can be heard asking, "Are we finished?" so they could remove their disguise.
Photos and clips from the interview have since gone viral online with many fans living for the dedication.
Taylor Swift fan does interview incognito
Fingers crossed their workplace doesn't recognise their voice now they've gone viral!
Leigh-Anne Picks Her Own Interview Questions | PopBuzz Meets