Taylor Swift fan accidentally pays $10,000 for Eras Tour tickets after presale mistake
3 July 2023, 14:06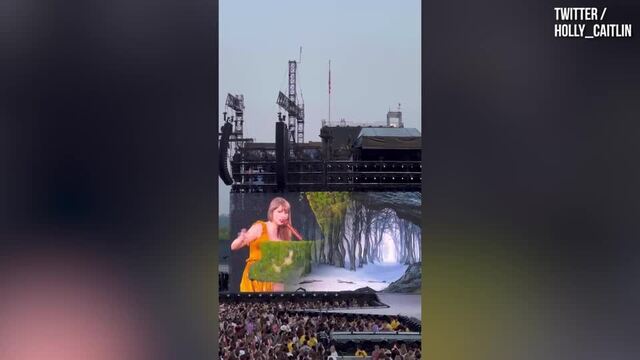 Taylor Swift explains why Cruel Summer wasn't released as a single
"As the wheel's spinning to process the order, I look in the background and it says $10,000."
When Taylor Swift sang about surviving The Great War, she was in fact referring to the absolute nightmare we're all about to experience while trying to buy tickets for The Eras Tour.
After announcing the international dates for her already record-breaking stadium tour, tickets for Taylor's Australian shows went on sale last week. And much like when they went on sale in the US, it sounds like it was a pretty stressful experience for everyone involved.
Australian Taylor Swift fan and TikTok user @__georose hopped online last week amid all the chaos of trying to buy tickets to The Eras Tour in the Amex presale. The good news: She managed to secure her tickets. The bad news: She accidentally spent $10,000 trying to get them.
In a TikTok video that has now gone viral, Georgia explained the story behind how she "accidentally" ended up dishing out over $8000 more than what she was willing to pay.
"Yes, I accidentally spent $10,000 on Taylor Swift tickets because I am a moron," she says at the start of the video. "I was kind of going back and forth for a while about spending $900 or $1200 on a concert ticket. In the end, I was like, you know what, I was there for debut so it was really a no brainer for me."
Explaining that her and her sister ended up opting for the "It's Been A Long Time Coming" VIP package, Georgia continued: "I had four windows open. I was not expecting to get tickets in any of them. It hits 10AM, nothing's happening... 10:04AM comes around and tickets ended up showing up in all of them."
"So I was assessing my tickets and the timer is counting down," she added, explaining that after selecting the two tickets she wanted, she closed the other windows and set those tickets free.
However, after paying and checking the amount of money she'd spent buying the tickets, she realised that she had bought all the tickets from each of the windows she'd had open.
READ MORE: Every surprise song performed on Taylor Swift's Eras Tour so far
"As the wheel's spinning to process the order, I look in the background and it says $10,000," she said. "I froze. My heart literally stopped. Next minute, I'm hyperventilating. Literally sobbing."
To make matters even more stressful, she had used her dad's credit card to make the purchase. Thankfully, Georgia said that her dad was fine with it and reassured her that they would find people to sell the other tickets to.
After all that, Georgia and her sister managed to secure some pretty great tickets right on the diamond. And it sounds like the problem may have already been solved too, because she revealed that friends had already contacted her to see if they could buy some of the tickets off her at face value.
"If I could afford to spend $10,000 on Taylor Swift tickets and go every time, I probably would," Georgia says at the end of the video. And you know what? Same, tbh.
Leigh-Anne Picks Her Own Interview Questions | PopBuzz Meets