Taylor Swift fans spot easter eggs that 'foreshadowed' her Travis Kelce relationship
26 September 2023, 16:43 | Updated: 23 October 2023, 10:54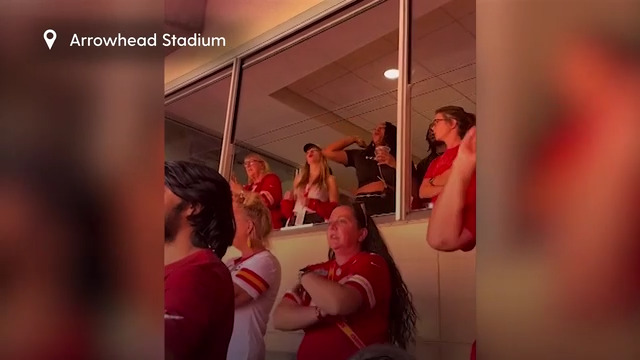 Taylor Swift spotted at Kansas City Chiefs game
From the lyrics to Mary's Song (Oh My My My) to Cornelia Street and The Archer... the connections are kind of crazy.
It's safe to say that the Swifties, and the internet at large, are well and truly obsessed with Taylor Swift and Travis Kelce's relationship.
Back in September, after weeks of speculation, Taylor made an appearance at the Kansas City Chiefs game after being invited by NFL star Travis. Back in July, Travis revealed that he had attempted to give Taylor his phone number after one of her Eras Tour shows, but failed. Ever since, he's been publicly trying to connect with her.
From Taylor excitedly watching Travis play, to the two of them leaving together, fans have been locked in, completely enamoured with the 'sports romcom' vibes of the whole thing.
Weeks later, it's now clear that the two are officially dating, and Swifties have been busy noticing a string of coincidences in song lyrics, numbers, birthdays and other small details all linking Taylor to Travis over the years.
Alexa, play 'Invisible String'!
The lyrics to 'Mary's Song (Oh My My My)'
The first connection that Swifties made is all thanks to a very specific lyric on a track from Taylor's debut album. On 'Mary's Song (Oh My My My)', Taylor sings the lyric: "I'll be 87, you'll be 89 / I'll still look at you like the stars that shine."
Taylor is actually singing about the ages of the couple mentioned in the song but after realising that Travis' jersey number is 87, fans quickly applied it to the duo. Of course, Taylor would be the 89 in this situation, seeing as it's her birth year. (89 also happens to be Travis' birth year too.)
Travis' Chiefs jersey number
On top of the 'Mary's Song (Oh My My My)' lyric, 87 + 13 (Taylor's favourite number) also equals 100. For a fandom obsessed with numbers and numerology? That's a pretty big one!
Taylor's grandmother's birthday
Not only was Travis also born in 1989, but he shares a birthday with Taylor's beloved grandmother Marjorie, who she also sings about on a particularly emotional evermore track.
The lyrics to 'Cornelia Street'
Lover's 'Cornelia Street' sees Taylor sing the lyrics: "We were a fresh page on the desk / Filling in the blanks as we go / As if the street lights pointed in an arrowhead / Leading us home."
The name of the stadium where the Chiefs play, and where Taylor and Travis made their public appearance last weekend. Arrowhead Stadium. Travis also watched Taylor perform on the Eras Tour at the Arrowhead Stadium back in July, too.
'The Archer'
Fans have noticed that there's actually quite a lot of arrow symbolism connecting Taylor and Travis. As well as the 'arrowhead' of it all, when Taylor performs 'The Archer' on the Eras Tour, she mimes the actions of shooting a bow and arrow. When Travis scores a touchdown, he also does the same action.
On top of that, their star signs also play into the connection. Taylor is a Sagittarius sun and Travis is reportedly a Sagittarius moon. According to astrologists, the matching sun and moon signs (also the sign of the Archer) make for a pretty strong connection.
'You Belong With Me' music video
Now, this one is a bit of a stretch but the math is kind of mathing here.
One fan noticed a strange coincidence in the 'You Belong With Me' music video, writing: "The way everything aligns with taylor is crazy because here she is in the you belong with me video cheering on her footballer crush getting a touchdown and the actor who played him was in the hannah montana movie (also featuring taylor) and his character's name was…travis."
The actor in question is Lucas Till and yep, he played Travis Brody in Hannah Montana: The Movie.
Troye Sivan Paints A Self-Portrait While Answering Deep And Chaotic Questions