Millie Bobby Brown says Stranger Things is "preventing" her from creating stories she's passionate about
17 October 2023, 12:32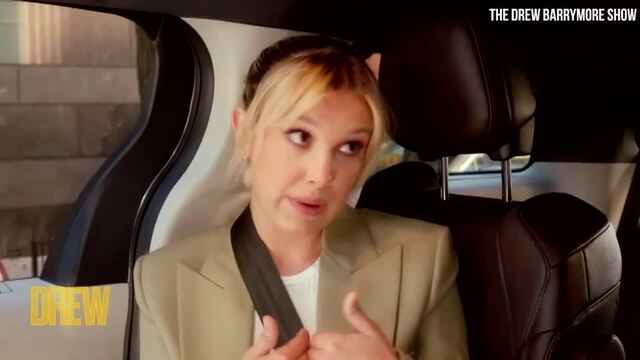 Millie Bobby Brown wants to play Britney Spears in a biopic
Millie Bobby Brown is ready to say goodbye to Stranger Things.
Millie Bobby Brown has opened up about Stranger Things ending and how it's stopped her from doing the projects that she really wants to do over the years.
It's hard to believe it but Stranger Things is coming to an end. As of right now, Stranger Things 5 is yet to start filming and it is unclear when it will be released. However, the Duffer Brothers have confirmed that the new season will act as the official finale to the beloved show.
Now, Millie Bobby Brown has revealed how she feels about saying goodbye to Eleven and the cast and crew of the show.
READ MORE: Jon Bon Jovi says Millie Bobby Brown and Jake Bongiovi are not too young to get engaged
Speaking to Glamour about Stranger Things 5, Millie compared the TV show ending to leaving high school. She said: "When you're ready, you're like, "All right, let's do this. Let's tackle this last senior year. Let's get out of here.'"
Explaining why she's now ready for it to end, Millie added: "Stranger Things takes up a lot of time to film and it's preventing me from creating stories that I'm passionate about. So I'm ready to say, 'Thank you, and goodbye.'"
Millie also said that the show has given her "the tools and the resources to be a better actor" and it's time for her to use those tools on other projects.
Is she in mourning? Millie said: "No one is dying! When it ends, I'm going to be able to still see these people."
Given that Millie was first cast as Eleven eight years ago when she was just 11, it's perhaps understandable that she's ready to spread her wings and try something new.
While filming Stranger Things, Millie has also starred in several films including Netflix's Enola Holmes movies, which she produced. Elsewhere, Millie set up her own beauty brand Florence by Mills.
As for what Millie plans to do next, she has just filmed a new post-apocalyptic film with The Russo Brothers and Chris Pratt called Electric State.
Discussing the experience on set, Millie said: "To be able to go toe-to-toe with Chris Pratt! It's a very exciting opportunity that I never thought I'd be able to have, to be able to be treated the same as him and to be looked at and respected the same as him on the set by the production, by the studio."
Praising Chris, she added: "He's such a great man, but also a great actor and a great costar. And you rarely get that in this business, to work with men that really support you and understand you and let you shine."
When asked if her past male costars have treated her with the "same level of respect", Millie paused and said: "Some of them absolutely have, yes."
What do you want to see Millie do next?
Troye Sivan Paints A Self-Portrait While Answering Deep And Chaotic Questions