Jenny Han calls out The Summer I Turned Pretty fans following Elsie Fisher bullying
24 July 2023, 12:28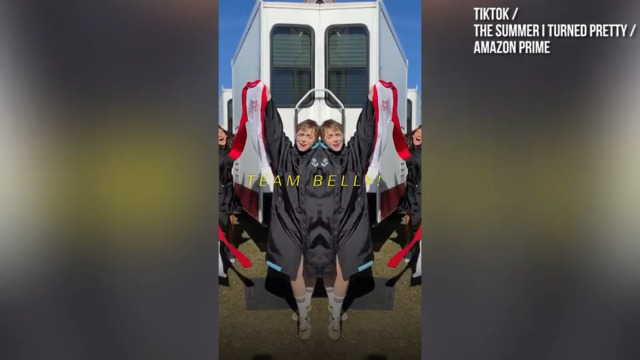 Elsie Fisher joins The Summer I Turned Pretty cast
Elsie Fisher has been bombarded with online hate since joining the cast of The Summer I Turned Pretty season 2.
The Summer I Turned Pretty author Jenny Han has called out the show's fans after actor Elsie Fisher was bullied online.
The Summer I Turned Pretty is officially back baby! Season 2 is in full swing and it's arguably even more iconic than the first. Not only is Belly (Lola Tung) still on her love triangle bullshit but there's plenty more drama, romance and surprises in store for fans. On top of that, Eighth Grade star Elsie Fisher has also joined the cast as Conrad and Jeremiah's cousin Skye.
For the most part, fans are living for Elsie's performance in the show. However, some have bombarded Elsie with hateful comments on social media. Now, The Summer I Turned Pretty's creator Jenny Han is asking fans to stop the bullying.
READ MORE: The Summer I Turned Pretty season 3: Release date, cast, plot and book spoilers
Taking to her Instagram stories, Jenny said: "The whole Summer cast and crew have worked hard to make a show we hope you will love, and we are so excited to share it with you guys." She then added: "The Summer I Turned Pretty community is one of inclusivity. The hurtful comments directed at cast are not in the spirit of the show."
Jenny ended by writing: "Please be mindful of what you're putting out there and of who is seeing it."
Since it was first announced that Elsie would be joining The Summer I Turned Pretty cast as a brand new character named Skye, they've been subject to trolling on social media. Unfortunately, it's only intensified since season 2 started airing.
Skye is nonbinary and many of the hateful comments on Elsie's social media pages are transphobic and make fun of their appearance. It goes without saying that this kind of behaviour is wrong and Elsie shouldn't have to experience it.
In a new interview with LA Times, Elsie revealed that they worked closely with Jenny to develop the character of Skye.
Discussing Skye's gender, they said: "For me, Skye being nonbinary felt important because I think trans people in general, but specifically people who don't fit into 'male' or 'female,' can be portrayed as very 'other than' and don't always have those happy endings or any sort of connection to others."
They ended by saying: "It felt important to tell a story that didn't feel forced and, I think, feels very true to how life works out."
In this house we stan Elsie and Skye!
The Witcher Cast Interview Each Other | PopBuzz Meets