Olivia Rodrigo addresses Taylor Swift feud rumours and Deja Vu credits controversy
12 September 2023, 16:16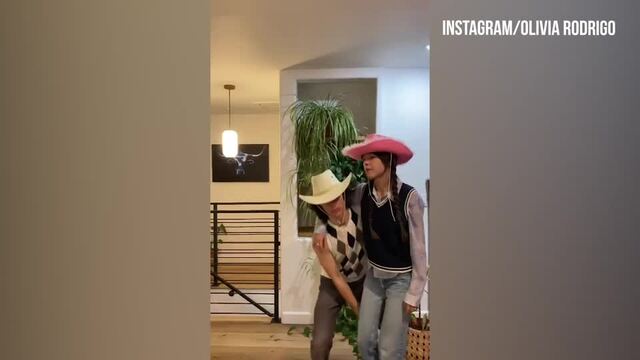 Olivia Rodrigo and Conan Gray reenact Taylor Swift's songs
Olivia Rodrigo says she was "a little caught off guard" when Taylor Swift was added to her 'Deja Vu' credits after 'Cruel Summer' comparisons.
Olivia Rodrigo has opened up about adding Taylor Swift to her 'Deja Vu' credits, and whether or not they are in a feud.
When Olivia Rodrigo started releasing music, she talked profusely about how much Taylor Swift has inspired her. Taylor also praised Olivia in return and even sent her gifts. Olivia later told Rolling Stone that the bridge in her hit single 'Deja Vu' was inspired by Taylor's 'Cruel Summer'. She said: "I love 'Cruel Summer' that's one of my favourite songs ever."
However, people then accused Olivia of copying 'Cruel Summer' with 'Deja Vu'. Soon afterwards, Taylor, Jack Antonoff and St. Vincent, who wrote 'Cruel Summer, were retroactively added to the credits of 'Deja Vu' and Olivia stopped mentioning Taylor in interviews. This led people to suspect that Olivia and Taylor's relationship had turned sour.
Now, Olivia has spoken out about Taylor and how she was "a little caught off guard" by the 'Deja Vu' credits incident.
READ MORE: Olivia Rodrigo fans think her The Grudge lyrics are about Taylor Swift
In a new interview with Rolling Stone, Olivia was asked if the Taylor feud rumours are true. She then said: "I don't have beef with anyone. I'm very chill. I keep to myself. I have my four friends and my mom, and that's really the only people I talk to, ever. There's nothing to say. There's so many Twitter conspiracy theories. I only look at alien-conspiracy theories."
When asked how she felt about the credits controversy, which also involved Hayley Williams and Josh Farro being added to the credits of 'Good 4 U' following comparisons to Paramore's song 'Misery Business', Olivia said: "I was a little caught off guard."
Talking further, she added: "At the time it was very confusing, and I was green and bright-eyed and bushy-tailed. It's not something that I was super involved in. It was more team-on-team. So, I wouldn't be the best person to ask."
When asked if she would ever demand to be credited on another artist's song if fans noticed similarities between their song and one of hers, Olivia said: "I don't think I would ever personally do that. But who's to say where I'll be in 20, 30 years. All that I can do is write my songs and focus on what I can control."
Read more Olivia Rodrigo news stories here:
Olivia Rodrigo vs. 'The Most Impossible Olivia Rodrigo Quiz' | PopBuzz Meets